July 27: Grooms in West Bengal's Murshidabad district are singing a different tune these days. They are no more asking for jewels or hard cash. No, they haven't given up on the dowry. Instead they are demanding for something more practical and useful, a wooden boat. Along with it comes the demand for a bride who can swim, says a report in Hindustan Times.
The reason for this lies in the floods that hit this area last year and the people are not taking chances anymore. "Life after all, is more precious than gold, silver or a few thousand rupees," says a resident of Murshidabad, in the news report. "Though we hope there are no floods like last year's, the boats can always be used for fishing."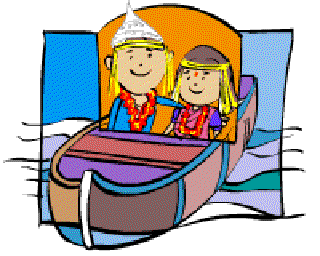 Anxious parents have started imparting swimming lessons to their daughters. Some have even ventured on a boat-renting business to help those who can't afford to buy them.
With boats pegged between Rs 5,000 and Rs 8,000, boatmakers are making a fortune. "Like rich people have cars in their garages, every household here will have wooden boats in their courtyards," says a boatmaker.
It seems the floods in West Bengal result in surprising developments every year. In last year's floods, at a relief camp organised by two animal welfare organisations, besides the cattle and livestock, wild animals, too, were rounded up and taken to the camps. And so it was that jackals and hyenas jostled for space with hens, ducks, cows and buffalos in these camps, but not once did they prey upon the domestic animals.
Every year in India, the states of Andhra Pradesh, Assam, Bihar, Orissa and West Bengal suffer from floods during the monsoon. Orissa, particularly, is badly affected year after year. In fact, the people of the east coast have not got over the destruction and disruption caused by the terrible cylone of 1999, which resulted in 30,000 deaths.
This year the widespread floods have affected over 80 lakh people in 22 districts of Orissa. About 9,000 villages have become inaccessible, and villages have disappeared under wave upon wave of flood water.
Even districts like Kalahandi, that are in the news year after year for drought and famine-like conditions, is "knee-deep in water," says a report in The Indian Express
The terrible part of all this is that the extent of destruction and death is not so much a consequence of the floods – it is the result of human mismanagement. State governments have never really got around to having a long-term plan for the management of river systems. And so after every flood, the people are left a little more impoverished than before, and incapable of rebuilding their lives.
456 words | 4 minutes
Readability: Grade 8 (13-14 year old children)
Based on Flesch–Kincaid readability scores
Filed under: world news
Tags: #india, #floods, #destruction, #bengal, #west bengal, #orissa
You may also be interested in these:
Orissa Police's Feathered Force is Dying
Here Comes Pujo!
Where does the Pigeon Post Operate?
Deepavali: Festival of Lights
Tiger Target