September 30: It all began with 'bhajiya' (fritters). A few years ago, prisoners of Sabarmati jail in the city of Ahmedabad, Gujarat, began a 'bhajiya' corner. They sold crispy 'bhajiya', a favourite snack of Gujaratis, in the shop. Predictably enough, the snack was a big draw among people. Sales touched Rs. 20,000 per day.
Inspired by the runaway success of their venture, the prisoners have decided to diversify.
They have proposed a series of profitable ventures that they would like to set up in the coming months. The only eligibility criteria they have to fulfill in return is to have a record of good conduct in jail.
So what are the business ventures they want to start? On top of the list is a petrol pump. Two big oil companies in India, Indian Oil Corporation and IBP Ltd., are vying for the deal as the jail offers a prime location.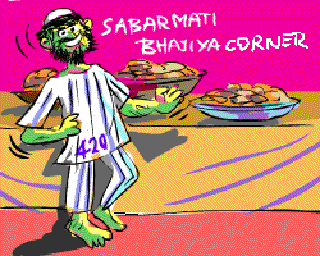 The plan is to build a state-of-the-art petrol pump with an investment of nearly Rs. 1.5 crore. Jail inmates alone will be allowed to work in it, and might also get a share of the profits.
That's not all. 'The Times of India' reports that the pump will be located in a complex which will have a garden, a convenience store, an air conditioned restaurant and a Liquid Petroleum Gas (LPG) distribution agency.
It will also have a showroom displaying products manufactured inside the jail, and even a "party plot" which will provide catering services. It will employ around 75 prisoners and pay them Rs. 75 daily. Part of the money will be deposited in the jail fund.
So what will the prisoners work as? Petrol pump attendants, gas-delivery men, waiters, caterers, and industrial workers helping out in sheds set up by businessmen. More job opportunities will come their way, with the setting up of a horticultural and ornamental plants nursery, within the jail campus itself.
Besides earning money, the prisoners will learn the trade. Equipped thus, they will find it easier to earn a living after release from jail.
And what will remain of the 'bhajiya' corner? Only time will tell.
362 words | 3 minutes
Readability: Grade 7 (12-13 year old children)
Based on Flesch–Kincaid readability scores
Filed under: world news
Tags: #india, #money, #success, #prisoners
You may also be interested in these:
Rats
A Salty Life
Street Cricket in Calcutta: Out, Caught!
Simputer: The Low-cost Computer
Roy of Light