July 1: See this picture. What do you think the children were doing?
No, they were not waiting for a community bath. They were at a gram sabha (village meeting). They had gone there to tell officials that the increased cost of power is making them miserable.
This kids protest happened at Sitarampura near Vijayawada in Andhra Pradesh recently.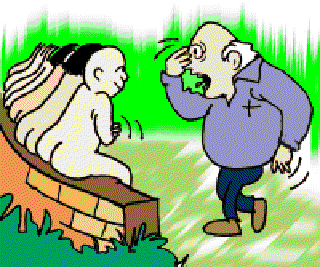 The gram sabhas were being conducted last week by officials of the Andhra Pradesh Transmission Corporation (AP Transco). They had not expected a bunch of naked kids to come with their list of woes, reported the Hyderabad-based 'Deccan Chronicle' newspaper.
And the complaints were many. Sankar, a class IV student, said that he is not able to watch his favourite programmes on TV. Ramu, a class VII student, complained that he could not study after 8.30 p.m. because his parents switched off the lights to save money.
Vinod, a class V student, said his mother switches off the fan when he is sleeping in order to save on power.
The officials were totally confused. They did not know how to deal with the children's complaints.
The problem is a bit complicated. As in other Indian states, there is a great deal of power theft in Andhra Pradesh. Many people tap electricity from a public source and do not pay for it. These are called illegal connections. Many of the illegal users know important people, so it is difficult to catch them.
One of the ways to get over the loss was to increase the cost of electricity. The Transco officials did that. But it also means that people who pay for the electricity they use, end up paying for those who do not. And that is not fair, say the kids.
Things continue to remain the same in Andhra Pradesh. Not many people have come forward to get regular connections. This means that the number of illegal users still remains. So while Transco still suffers losses, it has also angered the people who have always paid their bills and now have to pay more. What will the children do next, one wonders.
358 words | 3 minutes
Readability: Grade 6 (11-12 year old children)
Based on Flesch–Kincaid readability scores
Filed under: world news
Tags: #student, #andhra pradesh, #electricity
You may also be interested in these:
The Unknown Soldier