September 6: Eight-year old Neha is the happiest girl in India. Her father has just won a huge amount of money at a popular television quiz show. Neha coached him for the show.
The game show, 'Kaun Banega Crorepati' (KBC), is the Indianised version of the famous American show 'Who Wants To Be A Millionaire?' Contestants are given 15 questions to answer. The person who answers all the questions correctly, wins 10 million dollars (in KBC he or she wins one crore rupees.)
Neha's father, Ramesh Chandra Dubey, has been an avid quizzer since childhood. Although his work-schedule (he is a businessman) didn't allow him to pursue his passion for quizzes, he kept an active interest in quizzing. Ramesh was determined to make it to KBC, and win something. Anything. The minute he found that he too was a contestant in KBC, he enlisted Neha's help to brush-up his general knowledge.
Every night father and daughter would play their own version of KBC. Neha would pose as the quizmaster and throw question after question at her father. The questions were selected from general knowledge books that she collected from her friends. But she never told them what the books were for, says a report on the website rediff.com. She was afraid they would laugh at her. Now her friends can't stop asking her if their books were of any help. Being a polite girl, she assures them that each book helped.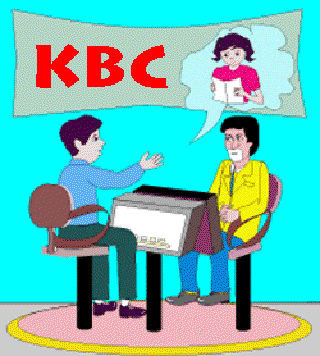 Borrowed books or not, Neha was sure her father would win a big sum. "My dad was always good at GK (General Knowledge). More than my contribution, it's dad's own genius that enabled him to create history", she proudly admits. A nation watched him doing so on television.
The Dubey family is overwhelmed by people's response. His wife Snehlata, who accompanied him to the show, recalls that most people surrounded him and not the show's anchor, Amitabh Bachchan, after he won. This is quite a feat because Bachchan, once India's most popular actor, is a big draw in India even today.
And Ramesh can't stop thanking his daughter. "I owe my unprecedented success to my daughter", he says. "Without her support, I would never have made it", he adds.
Ramesh missed the jackpot prize of Rs 1 crore (Rs 10 million) by a whisker. The answer to the last question eluded him. So, instead of risking what he had won so far, he sensibly opted out and, with that decision, created history.
The quiz show has made a large number of Indians want to participate in it and win easy money. It has also made a lot of others want to be a part of the audience, like Jitendra Rajak, who ran away from his home, in Calcutta, to Mumbai where the show is hosted. His aim – to watch the show live.
All very well but for one thing – Jitendra is only ten. He had made several failed attempts to phone the KBC people, at first. When this didn't work, he stole money from his house to buy a train ticket to Mumbai. Thankfully, Jitendra was caught before he could do so and sent promptly back home.
536 words | 6 minutes
Readability: Grade 5 (10-11 year old children)
Based on Flesch–Kincaid readability scores
Filed under: world news
Tags: