October 21: The two news reports appeared almost at once and said a lot about the state of affairs in education in the world.
One was the announcement of a whopping US$210 billion Gates Scholarship set up at England's prestigious Cambridge University by the richest man on earth, Microsoft boss Bill Gates. The scholarship fund will enable 225 youngsters from across the world to be Gates Cambridge Scholars every year, beginning 2001.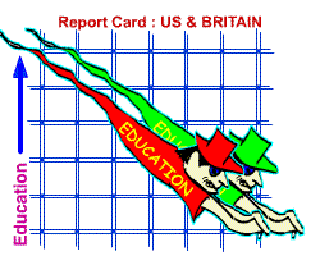 Graduate students from every country in the world, barring the United Kingdom, would be eligible to apply. The scholarship fund will thus help talented students particularly from developing countries like India which are fast gaining an enviable reputation, to do well.
Gates' admiration for the software minds of Indian profesionals and for institutions like the Indian Institutes of Technology (IITs), is well known. In fact, the scholarship fund has been designed along the lines of the Nehru Scholarship fund of India.
The other bit of news that came almost simultaneously in many newspapers was that Britain and the United States have decided to learn a thing or two about the better education models in each other's countries, through the Internet.
This decision is based on recent findings that about one-fifth of American students drop out of high school without graduating.
Moreover, of the students who do make it to college, about 29 per cent have to take what is known as remedial courses to help them brush up their reading, writing and math. It has been discovered that American high school children fare poorly compared to European students in math and science.
Thus, it is not surprising that both the US and Britain are finding it extremely difficult to find skilled professionals in high technology posts. These positions are being taken up by immigrants, among whom Indians seem to be ahead.
In fact, both countries, who in the past have been very strict in restricting the number of people they allow to immigrate, have increased the quota in recent times, leading to local resentment and a rise in racist feelings. For countries who have for long have been the rulers of the world, this is perhaps a numbing and worrisome thought.
How worrisome, has been made clear in the recent election campaign for the US presidency. Apart from their normal routine of baby-kissing and declarations on US' strong position in international affairs, both candidates, Al Gore of the Democratic Party and George W Bush Jr of the Republican Party, spoke of the failing standards of education in the US.
It is time to sit back and watch developments on the education front the world over, to see if they do manage to alter the world map a bit. And give countries like India, with their vast pool of local talent, a chance to shine in the international field for a change.
479 words | 4 minutes
Readability: Grade 10 (15-16 year old children)
Based on Flesch–Kincaid readability scores
Filed under: world news
Tags: #india, #indians, #americans, #technology, #great britain, #cambridge
You may also be interested in these:
Eastward Ho!
English and Indlish
Which is the World's Oldest Working Locomotive?
Army Comes to the Aid of Birds
How Did the Indian Postal Service Start?