October 28: In Gujarat last year, thousands of girls who passed out of primary school, were given unique gifts by the Gujarat government: bicycles to ride to secondary schools.
The gifts are not meant to reward the girls for passing their examinations. They are recognised as the only way for these girls to pursue higher education in secondary school, usually situated far away from their homes.
The scheme is the brainchild of the Minister of Other Backward Castes, Gabhaji Thakore. The Indian Express has written a report on the trend.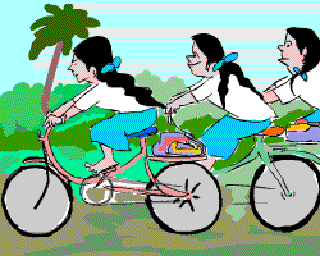 "Most of the girls studying at the village level dropped out from schooling after grade VII primarily because their parents either did not have the money or were apprehensive of sending them by bus to a nearby secondary school nearby," says Thakore. A large percentage of girls belong to underprivileged groups.
The lack of transport facilities combined with the inhospitable rural terrain and the long time that it took to travel to school, all put paid to the dreams of higher education of these girls. Most of them dropped out, and in the process, lost out on the opportunity to be educated.
In a country where female illiteracy is still a major issue, the Gujarat government felt compelled to do something to arrest the drop-out rate of girls. And that's when it thought of bicycles. It distributed 66,678 bicycles to girls passing out of primary schools or the seventh grade, last year.
The government plans to distribute 70,000 more bicycles to girl students in the new academic year.
The result? A marked increase in the attendance of rural girls in secondary schools. And an equally marked increase in the enthusiasm of the youngsters who are getting to ride to school in shiny, new bikes. Inquiries for uniforms for girl students, scholarships and hostel facilities, are flooding in at the department that deals with this scheme.
Gujarat is not the only state in India to launch this project. The district of Pudukottai in Tamil Nadu, has successfully experimented with it already.
Feedback suggests that over half the girls who have been provided bicycles are using these to pursue further studies in a neighbouring town where a secondary school is available. They are all riding their bikes into a promising future.
388 words | 3 minutes
Readability: Grade 9 (14-15 year old children)
Based on Flesch–Kincaid readability scores
Filed under: world news
Tags: #india, #gujarat, #gifts
You may also be interested in these:
Deepavali: Festival of Lights
The Empowered Woman of Nyala
Say Cheese!
Killing them Surely
The Quake that rocked Gujarat