November 4: While cities and towns have the privilege of an electricity connection, there are still a number of remote villages in India that lack this facility. Their homes remain shockingly dark, even on the threshold of the twenty-first century. It's a reality that the Indian government has done little to change. Providing electricity to all of India appears to be beyond its reach, even today.
So the loudest cheers must be reserved for the man who says, yes, it's possible to light up all the villages in India, even the poorest, most remote ones. The man is Sanjit or Bunker Roy, a well-known social worker who, together with wife Aruna, has made rural Rajasthan their home for many years now.
At Tilonia, in Rajasthan, everything is powered by solar energy. Roy maintains that solar power can electrify any village, in the most inexpensive way possible. Here too is located the Barefoot College, founded 29 years ago to train rural youngsters to install and maintain solar photovoltaic units (that convert sunlight directly into electricity) in different parts of the country.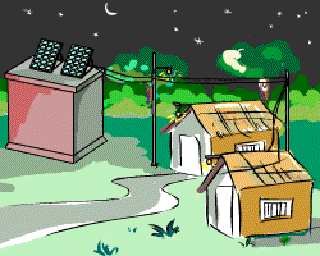 And it is this college concept that has been chosen for an international award. The Germany-based 2000 Nuclear-Free Future Solutions Award was conferred on this college for its remarkable work in training ordinary rural men and women in fabricating, installing, repairing and maintaining sophisticated solar energy lighting systems in a remote region, whether it's the desert or a tribal forested region.
The $10,000 award, instituted in 1994 by Claus Biegert, a German author and journalist and his wife Christa Lubberger, is given in four categories: Resistance, Education, Solutions and Lifetime Achievement. Roy's Barefoot College, by relying on solar energy, is offering an inexpensive and non-polluting alternative to traditional non-renewable energy sources.
But the prestigious award (recipients include novelist Isabel Allende, publisher of Ecologist magazine, Terry Goldsmith and Dr. Klaus Traube, a German-Jewish scientist) is being given equally for the spirit behind the founding of the college.
Nearly a century ago, Mahatma Gandhi had said that knowledge, skills, and wisdom found in villages, if utilised properly, were enough for their development. The concept is at the heart of the Barefoot College too. Roy believes that any villager, whether literate or illiterate, can be trained to become solar engineers. No formal qualifications are needed.
Excerpts from a note from the Nuclear Free Future Award that appeared in "The Hindu" newspaper: "The Barefoot College of Tilonia is the sole rural development centre in India that – since 1986 – is electrified only by solar power. The solving of one simple problem can lead to amazing things – at Tilonia can be found a computer centre with some 15 computers, a telephone exchange with 250 connections, central facilities lit by 500 lamps and over 100 electrified households.
"Tilonia's famous women rights groups gather together under the light of solar lamps. But perhaps more importantly, in the surrounding region there are 100 evening schools for rural boys and girls who work days on their farms. Light can bring illumination."
Roy's Barefoot solar engineers are today, spreading the light beyond Rajasthan to the rest of India. Distant ice-capped Ladakh, the Indian state that borders Tibet, is one such region.
Bunker Roy received the award a few days ago, at the Rotes Rathaus or the Red City Hall in Berlin, Germany. He plans to use the award money to train more Barefoot women solar engineers in the Himalayas.
578 words | 5 minutes
Readability: Grade 11 (16-17 year old children)
Based on Flesch–Kincaid readability scores
Filed under: world news
Tags: #india, #germany, #rajasthan, #electricity, #german, #engineers, #barefoot
You may also be interested in these:
Eastward Ho!
Aruna Roy – Voice of the People
Creating Light from Garbage
The Misfortunes of Kera..la
Report cards