July 1: All governments and leaders talk about children as the "future" of the nation – a "strong" nation. They specially talk about the need to encourage sports among children from an early age. But if you ask the young swimmers who participated in the National Swimming Championship for the 11 and 13-year-old category recently, they will tell you how nonsensical these statements are. For they have a horror story to tell.
Two weeks ago, all the star swimmers of India in the 11 and 13-year-old category travelled to Bareilly in Uttar Pradesh. They went there to participate in the National Swimming Championship and were prepared for a tough competition. How tough the competition would be, they had no idea. For, they ended up competing with the swimming pool, not with each other. Bruised heads and feet and frogs as swimming companions – this was the experience the young swimmers went home with after the championship.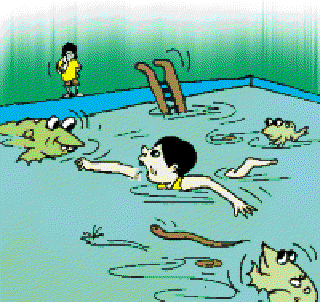 The water was so dirty that the swimmers could not see a thing around them. They could not even locate the finishing wall and ended up banging their heads. Not many records were created in a championship that was won by the team from Maharashtra.
Finally, on the fourth and final day of the championship, the authorities bought packs of chlorine to treat the pool. They did it at a time that prevented the children from pursuing their practice. Most parents were reluctant to speak to journalists about the whole mess-up. They were afraid that the officials would treat their children badly if they did, says a recent report in the 'Times of India' newspaper. The newspaper report from Mumbai does not mention any names, of course.
The local organisers of the championship have admitted that the state of the swimming pool at the Agrawal stadium was pathetic. At the same time, they pointed out that they were unable to keep it clean for a reason. To be clean, the water needs to be circulated all the time. Because of frequent power cuts, that is not possible.
But, if that was the case, the prestigious national championship should never have been held in that venue, states the report correctly. The Swimming Federation of India, which is a national level organisation, also needs to see what its local level partners are doing and so does the Sports Ministry. Especially when it comes to organising events for the young.
Leaders and officials may say that it is their life's mission to catch sporting talent at a young age, but the swimmers know that it is young frogs they are talking about.
442 words | 4 minutes
Readability: Grade 8 (13-14 year old children)
Based on Flesch–Kincaid readability scores
Filed under: world news
Tags: #india, #championship, #sports, #nations, #swimmers, #swimming
You may also be interested in these:
Viswanathan Anand – The Lightning Kid
The Earth Drum
Which is the Oldest Church in India?
English and Indlish
Indira Gandhi