October 28: Regulars at the Lucknow University campus in Lucknow, are familiar with the site of a tall, well-built young woman, in police uniform, zipping past on a powerful motorbike.
The young woman is Lakshmi Singh, a police sub-inspector who has recently taken charge of Lucknow University's outpost. And she is on a mission – to curb the spiralling violence against girls studying in the University.
The Lucknow University campus, is supposedly one of the most notorious campuses in India. Hundreds of hooligans and college boys loiter in the campus grounds, with the purpose of making the lives of the University girls miserable with their antics, reports The Telegraph. Many of them even carry guns. They indulge in eve-teasing and molestation of girls, and misbehave with everyone.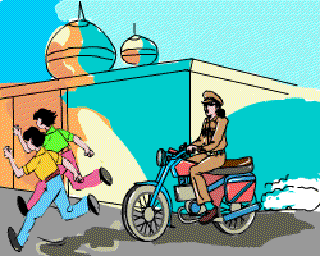 But it appears that these rowdies have finally found their match in Lakshmi. Ever since the young officer took charge of the Lucknow University outpost, cases of eve-teasing and molestation have decreased dramatically. Lakshmi has done what many tough policemen failed to do.
The amazing thing is, Lakshmi does not even have to do much to scare the men. Towering over most of them, her six-foot frame is enough to intimidate the campus-rowdies who say their macho egos would be bruised if they were bashed up by a woman.
Lakshmi opted to become a police officer after she met her role-model : police inspector KP Singh, a dashing officer who had made a name for taming the town rowdies. The daughter of a police-inspector, she joined the police in 1997 and is known to be an honest, competent and fearless officer.
Her presence in the campus has done wonders to the self-esteem of the girls. "It helps to have a fearless lady cop around," says a student. "First, she is more open to our problems and then there is the empathy factor. Girls have started walking more freely."
The girls are not Lakshmi's only admirers. Many of the male students are smitten by Lakshmi and in an effort to get to know her, are bunking classes regularly. The teachers, while crediting Laksmi for changing the campus environs for the better, complain that she is also the reason behind the drop in attendance among the boys. The boys follow her around the campus wherever she goes, but from a safe distance.
Their attention does not bother Lakshmi though. She knows they are not likely to do more than stare and maybe make a few tentative gestures. They wouldn't dare to go beyond that.
426 words | 4 minutes
Readability: Grade 8 (13-14 year old children)
Based on Flesch–Kincaid readability scores
Filed under: world news
Tags: #india, #lucknow, #university, #inspector
You may also be interested in these:
Truant Teachers
Aung San Suu Kyi
Teachers who Ticked Correct Answers Wrong
Indira Gandhi
Dr Sarvepalli Radhakrishnan