October 6 : Dhanna wants to become an actor. His dream is to star in a film with Shahrukh Khan and Kajol, two famous actors of Bollywood, Mumbai's hugely popular film industry.
Seventeen year-old Dhanna is the son of a rexine bag-maker. He lives with his family in a narrow by-lane of a poor colony in Delhi. The journey from here to the bright lights of Bollywood appears to be very long indeed. The journey becomes even more convoluted given the fact that Dhanna is also mentally challenged.
But the origins of Dhanna's obsession with Bollywood did not come from watching Hindi films, reports The Indian Express. It comes from having acted in a film once and even receiving an award from the President for it.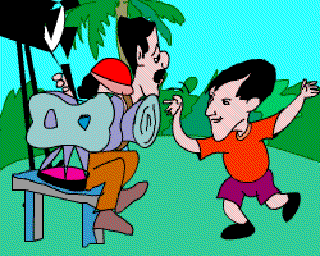 In 1998 Dhanna was picked up from a special disability school by a film-maker called Deepak Roy. Roy was on the lookout for a mentally disabled child to play the lead in his film about a similar child who succeeds in getting a hand pump installed in his village.
"I wanted a mentally disabled child to play this role instead of a known actor who would only enact and not do justice to the character. To make him more comfortable, I even changed the name of the film to Dhanna", says Roy.
Roy's decision proved right. Dhanna got the national award for the best film on a socially relevant theme in 1998. He received an award for his role from the President of India. But the fame and adulation became too much for Dhanna to handle. During the shooting of the film in Rewa in Madhya Pradesh, he started behaving like a star, making impossible demands and even throwing tantrums. After winning the award, he began to think he was a great actor.
Things became worse after Dhanna acted in a second film, a documentary, made by a new film-maker. In the film, Road to Bombay, Dhanna played himself. It presented the pain of a family who not only have a mentally-disabled child, but one with dreams that can never be fulfilled.
Today, Dhanna's family watches helplessly as he gets more and more caught up in the fantasy of becoming an actor. The irony is that while Dhanna may have acted in a film in which the character overcomes odds, in real life he is being asked to accept the odds as a final barrier between him and his dream of stardom. His father would rather have him go to Mumbai and face reality than stay in Delhi and dream of a fantasy-world.
Meanwhile, the man who introduced Dhanna to the craft of acting, Deepak Roy, feels guilty about his role in all this. He says he couldn't have known the effect that acting in a film would have on Dhanna.
But, becoming an actor in Bollywood is the dream of thousands of young Indians; it fuels their ambition like none other. These youngsters see several unknown actors achieve success beyond their wildest dreams by facing the arc lights in Bollywood. Dhanna's role-model, Shahrukh Khan, was a Delhi-based TV actor who made it big.
Of course there are many more who fail miserably and have to return home defeated. But the few success stories that have happened have deeply impacted the minds of film-crazy youngsters in India. Every year Mumbai sees thousands of such youth arrive in the city with stars in their eyes.
These youngsters are supposed to be normal. And yet, they behave crazily when in the grip of the 'acting bug'. So how can one hold Dhanna responsible for the fantasy-world he's created for himself? For his sake, one just hopes that reality, when it bites, does not bite too sharp.
626 words | 6 minutes
Readability: Grade 7 (12-13 year old children)
Based on Flesch–Kincaid readability scores
Filed under: world news
Tags: #india, #mumbai, #bollywood
You may also be interested in these:
Monsoon in Mumbai
A Salty Life
Ali Sardar Jafri
The Green Magician
India's first Underwater World