December 27: Last year, 10 stonemasons had been taken from Udaipur to London to build a temple. Overjoyed with this opportunity to earn more money, they went along willingly. But what did they get there? Just a dirty shack to live in and only 20 pence an hour.
The stonemasons did not know that they were being exploited. However, they did know that they were being treated badly. The moment they reached London, their passports were taken away from them. Then they were threatened that they would have to go back to India on their own if they disobeyed their 'employers'.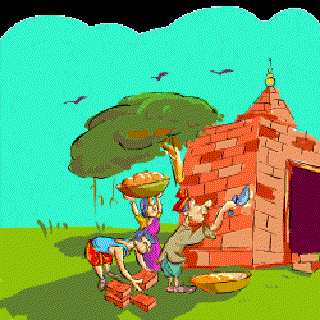 Finally, their guardian angel arrived in the form of the British Broadcasting Corporation (BBC). The BBC had become aware of their plight and brought their exploitation into the open.
When that happened, several government agencies in London got involved and filed a case against the people who were building the temple. The masons won the case and that is how each of these masons will now be getting 10,000 pounds as compensation.
According to a recent report in the Afternoon Despatch and Courier, in April 1999, Shirco Ltd., a company in London, came to Rajasthan to find good stonemasons. The company is owned by the Shri Vallabh Nidhi – UK Charity. They promised to pay the masons double the amount they earned in India. After all, the temple itself was going to cost a whopping seven million pounds.
But, the company had lied to the masons. They found themselves living in a shack at the temple site, and being paid only 20 pence an hour. This means, they got only 125 pounds a month for working eight hours in a day, for six days in a week.
Twenty pence is double of what the masons would have earned in India. But it is also just a fraction of the minimum wages in the United Kingdom. Once the BBC report highlighted their plight, the various government departments swung into action. They investigated the matter and, as a result, Shirco Ltd., was ordered to pay compensation to them.
Though the company is now paying the workers what is due to them, the incident has angered many Indians. They are agitated by the fact that the masons should have been exploited while engaged in a "holy" task.
394 words | 3 minutes
Readability: Grade 7 (12-13 year old children)
Based on Flesch–Kincaid readability scores
Filed under: world news
Tags: #india, #charity, #london, #temple
You may also be interested in these:
The Empire Strikes Back
The Story of Dussehra
Mother Teresa
Eastward Ho!
Rats