July 31: Madonna, the international pop star, was among the first to use henna as an international fashion. But young people around the world are using more and more of it to beautify their bodies or their hair. And now even the Chinese have adopted it in a big way.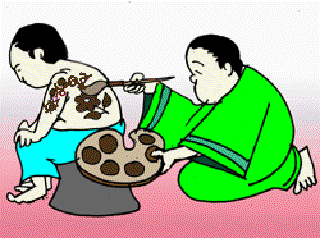 Call it henna or call it 'mehndi', that coffee-coloured extract from the henna plant, which has been used down the ages in India as a beauty aid.
Colourful flying dragons, blooming roses, and many other patterns are mushrooming on the bodies of Chinese youth, in the form of tattoos made of mehndi.
These tattoos are to be found anywhere on the bodies of boys and girls – their arms, waists, ankles, backs and faces, says a report in 'The Indian Express' which quoted the Shanghai-based daily 'Wenhui'.
A tattoo is made when a mark or figure is fixed upon the body by the insertion of some pigment like mehndi under the skin. But the Chinese are going in for temporary tattoos painted on a body. No jabbing for them.
That is one reason why body-painting studios have sprung up everywhere in China.
Twenty-three year-old Zhang Zhe owns the Jipin body-painting studio, the only one in Beijing. From morning to evening, his shop does roaring business. Lots of people come to his shop – actors, singers, college students, even executives of big firms.
Zhang uses a simple method to decorate his clients' bodies. His computer stores a large collection of Chinese patterns. When the client selects a particular pattern, Zhang prints it. Then he applies a tonic that will help the print leave a mark when pressed on the body. He paints on the mark left by the pattern. That way he can paint almost any pattern that can be stored in a computer.
Zhang's collection of patterns is varied. Simple designs such as jewellery, flowers, cartoons, little animals and insects are included. As are complicated patterns like Buddhist scripts. He charges anything from 10 Yuan (Rs. 50 or so ) to 300 Yuan
(Rs. 1,500).
Adult Chinese do not know what to make of this craze for body-painting. Some say it is artistic and mysterious. Others want to have nothing to do with it. It is unhealthy, they say.
Chinese youngsters are not bothered though. All they want is to get their bodies painted. Which people like Zhang are only too happy to do. At a price of course.
422 words | 4 minutes
Readability: Grade 5 (10-11 year old children)
Based on Flesch–Kincaid readability scores
Filed under: world news
Tags: #chinese, #computers, #tattoos, #patterns, #paintings
You may also be interested in these:
Hi-tech Schools
Shirt That is a Mobile Phone
Painting Pots
The Emperor who Hated Schooling
Your Mobile Phone Has a Bug