September 23: From the rollicking 'Chupke Chupke' and 'Golmaal' to the shades of jealousy in 'Abhimaan', from the quiet seriousness of 'Anupama' to the tragic 'Anand', veteran film maker Hrishikesh Mukherjee has covered an entire range of emotions and relationships in his films.
In a career spanning more than four decades, he became known as the man who touched a chord in the common man – the middle class in particular. And the ordinary film viewer responded to his quiet flowering in the only way he or she knew – by seeing Hrishi_da_'s films again and again.
On September 18, 2000, Hrishikesh Mukherjee, 76, was presented the Dadasaheb Phalke Award for a lifetime contribution to Indian cinema, in the National Film Awards ceremony, at Delhi. 'Musafir', 'Anuradha', 'Anupama', 'Aashirwad', 'Anand', 'Abhimaan', 'Namak Haram', 'Chupke Chupke', 'Mili', 'Golmaal': the list is impressive. And Hrishi_da_ made these films without getting slotted either as an " art film' (serious) director or as a commercial film director.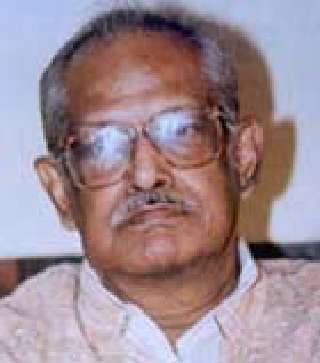 While watching Hindi films, people generally suspend their disbelief. They know that anything can happen in the course of a Hindi film – a beggar can turn into a millionaire and vice versa in the blink of an eye, men can fly through air, blind mothers can miraculously begin to see, and long-lost brothers can rediscover themselves precisely at the point of killing each other.
Most Hindi films are fantasies – they explore not when and why, but what if – a theme Hindi film-directors keep coming back to, again and again.
There's a reason for this, say those who've researched Hindi films as a part of popular culture – the everyday culture we see around us. The business of living is a deadly serious game for most Indians, requiring them to work very, very hard. Films offer them the only escape route from all the drudgery and monotony.
So Hindi films are glorious, have larger-than-life characters leading completely charmed and utterly unbelievable lives. Indians are not interested in watching slice-of-life films.
At least that's what the popular opinion on Hindi films is. But the success of the films of Hrishikesh Mukherjee seems to tell a different story. Most of Mukherjee's films are over twenty-years old, yet they remain fresh and appealing in the minds of generations of movie-goers.
The highlight of these films is the ordinariness of both their characters and of the situations they portray.
On the surface the films are "wholesome family entertainers", with simple narratives, gentle humour, a sensitive, often rather sentimental approach, good performances and hummable musical scores.
They deal with a range of subjects – humorous, romantic or tragic. But what marks them out is their ability to convey believable experiences to the viewers. There's a simple reason why these experiences ring so true – many of them are drawn from Mukherjee's life themselves.
In film after film he evoked the simple lifestyle of a typical Indian middle-class household and explored the different shades of relationships in that setting.
As a boy, he had never thought of taking up cinema as a career. His ambition in life was to become either a bio-chemist, a sportsperson or a musician. He studied chemistry in college and played sitar for All India Radio.
The period was the 1940s in India. The Indian progressive theatre movement was flourishing, a movement that dealt with the sensitive, social issues of the day in a realistic manner. Mukherjee ,too, was part of the movement, as a member of the Indian People's Theatre Association ( IPTA ).
From theatre to films was the logical step for him. In the beginning he assisted Bimal Roy, the director who was famous for directing starkly realistic films. He edited a lot of films, too, for Bimal Roy and other big banners of the Hindi film industry.
The first film Mukherjee directed independently was 'Musafir' in 1957, which won a certificate of merit from the president. 'Anuradha', which he made in 1960, fetched him the president's gold medal for best direction.
Such a meteoric rise was enough to get Mukherjee hooked to the medium of films.
Mukherjee worked with some of the biggest stars in Hindi cinema – Amitabh Bachchan, Rajesh Khanna, Rekha, besides gifted actors like Utpal Dutt and Amol Palekar. But no matter whom he took for his films, the end result was the same — a natural performance devoid of melodrama or larger-than-life heroics. He stripped the stars of their glamour and their starry image, and gave them the opportunity to perform as actors.
And that is why he is also known as the 'actors' director'.
Hrishikesh Mukherjee's most recent film, 'Jhooth Bole Kauva Kaate', which looked at love and everyday life in a typical middle class setting, did not do too well. Perhaps it is because the middle class is no longer the same; it is the fastest changing, most acquisitive section of Indian society today. Flaunting money comes easily to it.
No wonder, Hrishi_da_'s simple homily was not able to capture the magic of the seventies and the eighties in the nineties (last year). He himself feels that his audience, the middle-class, is no longer interested in the sort of films he made.
870 words | 8 minutes
Readability: Grade 10 (15-16 year old children)
Based on Flesch–Kincaid readability scores
Filed under: world news
Tags: #india, #indians, #hindi, #cinema, #films
You may also be interested in these:
Talkie Star from the Silent Era
Satyajit Ray
Report cards
Which is the World's Oldest Working Locomotive?
Army Comes to the Aid of Birds