September 23: For someone who has never travelled beyond the village, a trip to New York is something to be excited about. And it's no different for Shakuntala Bai, of Nyala, in Rajasthan.
She attended a two-day conference in New York organised by the Hunger Project and in the process met US President Bill Clinton too! Representing India, she spoke on "panchayati raj and the role of women".
The Hunger Project is a movement working to end hunger and poverty in India. It works in more than 1,200 villages across 11 states. The project aims to mobilize grass roots people to change laws, collect resources and remove obstacles to build lives free from hunger.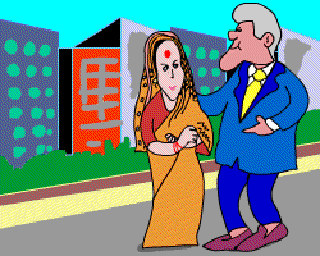 When President Clinton visited India he met Shakuntala Bai. At the end of the meeting an impressed Clinton told her, "If you contest an election, I'm sure you will win wherever you stand from." And she did!
Shakuntala Bai was elected secretary of the Kisan Sewa Samiti, representing 400 villages in the Chaksuand Fagi tehsil. This was reported in an article that appeared in 'The Hindustan Times'.
The invitation to an international conference, Shakuntala Bai feels, is in recognition of her 10-year work with the Centre for Community Economic and Development Consultants in projects related to empowering women.
Coming from a male-dominated society, this is a major achievement indeed. As a child she was barred from attending school. Later when she was working towards women and their upliftment, she was ridiculed. But the world has come full circle. When Shakultala Bai left for New York, villagers of Shaligrampura gathered to give her a warm send-off.
Shakuntala Bai is also carrying with her gifts for the US first couple. No, not frankincense and myrhh – gifts that the magi brought for baby Jesus- but bangles for Hillary Clinton and a pen, made specially from lacquer, for the US President, when she meets them later in Washington.
328 words | 3 minutes
Readability: Grade 9 (14-15 year old children)
Based on Flesch–Kincaid readability scores
Filed under: world news
Tags: #india, #hunger, #gifts
You may also be interested in these:
Gandhi's School is Dying
Made to Order
Indian Children on US Mars Project
The Olympic Gold Rush
The Common Man's Film-maker