Where: Jolo Island, Philippines
July 1, 2000: She has dared to go where most of us wouldn't. She went inside the jungles of southern Philippines where an armed group of people was holding 21 people, as hostages. Her purpose was to treat the kidnapped hostages, mostly foreigners.
She has made eight trips to the camp since June 10, says a recent report in 'The Indian Express'.
This brave woman is Nelsa Amin. Nelsa works as a health officer in Jolo island in Philippines. She is 65 years old. And, patients with gunshot wounds are a common sight for her. For a long time there has been some conflict or the other between different groups in this part of the country – either with the government or between themselves. They fight each other to control the area and they all have weapons. Gun fights and bombings are common in this part of Philippines.
But, despite her years of experience in a place where violence is so common, Nelsa says she still finds her job frightening.
Two months ago, her job took a new turn. A rebel group called the Abu Sayyaf , kidnapped 21 people from a Malaysian tourist resort. Travelling by sea, they brought them to their hideout in Jolo island. Some of the hostages were ill and in a bad state. There was a danger of them dying for lack of medical attention. It was at that point that Nelsa made her appearance.
The gang agreed to let Amin treat the hostages on the condition that she would also see some of the ailing members of the Abu Sayyaf group.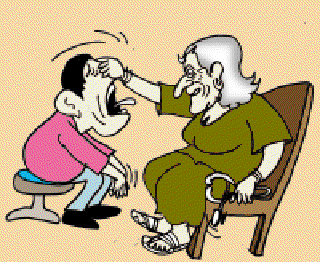 But, it was not that simple. Although most of the members of the Abu Sayyaf recognise Nelsa and treat her respect, some of the members are quite impolite, she says. They do not belong to Jolo. So, she insists that the leaders of the group are present during her visit. Otherwise, armed men make threatening comments like: "I will kidnap you if you do not give me medicine."
When the health officer went to the camp for the first time, her wrist watch and mobile phone were taken away by armed men. She has now made eight trips to the camp. During her last trip, she was made to carry a message to the Philippines government, demanding the release of a prisoner in a Malayasian prison. Eighty five-year-old Mohammad Aklam, a Filipino, is in a Malaysian prison.
Even before the hostage drama began, Nelsa Amin's life had its share of scary experiences. She has received threatening letters from unknown people asking for money. But for some reason, the letter writers have never shown up to collect the demand money.
There has not been much peace even inside the hospital. In one case, two men suffering from gun shot wounds were admitted to the hospital. When they discovered that they were in the same hospital, they continued their bloody battle inside the ward.
But the grandmotherly Nelsa still goes on with her job willingly. She knows that the people of Jolo need her healing touch.
522 words | 5 minutes
Readability: Grade 6 (11-12 year old children)
Based on Flesch–Kincaid readability scores
Filed under: world news
Tags: #hostages, #health, #hospitals, #philippines
You may also be interested in these:
Christmas Favourites
Old PCs Save Precious Lives
Box Full of Chocolates
Care for your Dog