July 1: Many children, all over the world, are working to protect the environment. While some are involved with school groups, others are busy spreading awareness in their neighbourhood. Fifteen-year-old Kruti Parekh is a bit different for she uses some rather fantastic methods in campaigning for the environment. This nature-loving teenager uses magic to promote environmental causes! Kruti also happens to be India's youngest professional conjurer — a record she has held for the last five years.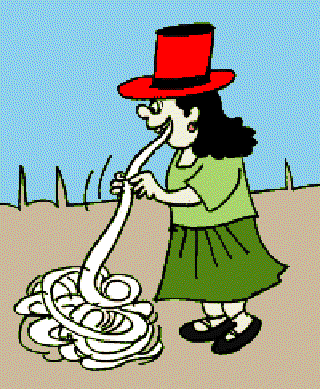 Like other magicians, she has a number of tricks up her sleeve. But unlike regular magicians, all her tricks carry an environmental message. For instance, she specialises in eating paper and magically reproducing recycled paper — a trick that illustrates the importance of recycling. Her favourite trick is transforming a banana peel into a lovely rose plant, demonstrating how waste can help beautify the environment.
Kruti is not a new entrant to the fantasy world; in fact she has been in the entertainment (more accurately infotainment) business for the last ten years! Her magical journey began at the age of five, when she chanced upon a street magician's performance in Lonavala. Impressed by the show, baby Kruti cajoled her parents into asking the magician to teach her some tricks.
The conjurer was amused by the enthusiastic toddler and agreed to tutor her for a fee. He was sure the little girl wouldn't be able to learn a single trick; however five-year-old Kruti immediately grasped the technique and amazed the magician by learning a dozen tricks within an hour.
Under the tutelage of William Zambago (a colleague of the famous magician, P.C. Sorcar), Kruti mastered more than 8,000 tricks and is now a veteran in the magic business, with over 1,500 performances to her credit.
This enterprising illusionist has involved about 100 Mumbai schools in environmental projects and is an active member of the Eco-Kid Club, in Bal Bhavan, Mumbai.
She is also the brains behind the vermiculture project in Bal Bhavan, which uses earthworms to transform garden waste into manure. She has put this principle into practice at her home and at a temple in Mumbai. The vermiculture project received quite a bit of attention and Kruti was interviewed by BBC radio and even appeared in a Japanese documentary on children.
Last year, Kruti was awarded the United Nations Environment Programme (UNEP) Global Award for outstanding contribution to the protection of the environment. In the same year, she represented India at a Worldwide Magicians Meet, in Las Vegas, US. Most of the magicians at the gathering relied heavily on gadgets and props and were astounded that Kruti could do so many tricks with such limited equipment!
This year, Kruti was invited to do a green magic show at Adelaide, Australia, on the occasion of World Environment Day. Much to her delight, the Australian Prime Minister congratulated her on her performance.
Kruti, who has more than 10 years of experience behind her, loves her work but insists that magic is anything but magical! According to her a 'magic' trick is all about the sleight of the hand and misdirecting the audience's attention.
525 words | 5 minutes
Readability: Grade 10 (15-16 year old children)
Based on Flesch–Kincaid readability scores
Filed under: world news
Tags: #india, #environment, #mumbai, #tricks, #vermiculture, #magic, #magician
You may also be interested in these:
The Chief Minister and the Butterfly
India's first Underwater World
Banaras The Eternal City
Killing them Surely
Janamashtmi – The Day Krishna was Born