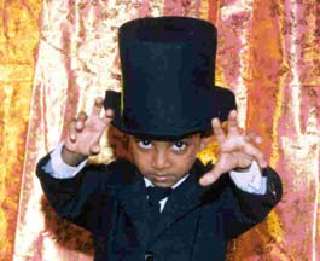 Five-and-a-half-year-old Bhagyanath can tell a story real well, especially the one about how a teacher caught him sharing a Coke with his friends in the school canteen. "I hid the bottle inside a book and when the teacher asked me to show what I was hiding, I opened the book. There was nothing there," says the bright-eyed boy."
Indeed, there wasn't! The little boy on stage had just managed to make a Coke bottle disappear in thin air. Master Bhagyanath is among the youngest magicians in the world.
The little magician was in New Delhi recently to perform a magic show at a cultural festival called 'Malaviyum', which means bringing people together.
This was a children's special. And the five-and-a-half-year-old was as sparkling off-stage as he is on stage.
There he was in a brown suit, with oiled hair neatly parted on the side, all ready to answer the questions of journalists. As I walked into the room at Kerala House, the state guest house where he was staying, he seemed a picture of confidence. His parents were at his side.
A first standard student of St. Shantal School at Kaudiar, in Kerala, Bhagyanath started young by watching his magician father and guru perform. As a toddler he would accompany his father to his magic shows. And one day he started on his own. He was three when he gave his first performance on stage, in a school.
"I never felt shy on stage" he said with confidence. In a little over two years he has given nearly 300 performances.
Could he make Kerala House disappear, I asked. "Not now, maybe when I grow up," came the prompt reply.
In school, his friends treat him like any other student except that they also call him Bhagyanath magician.
"When they ask me to do magic, I show them simple tricks like making a coin disappear and then bringing it back — but not everyday," he said in a firm tone. Children pester him to teach them magic but he does not tell them, for he is busy becoming a master magician.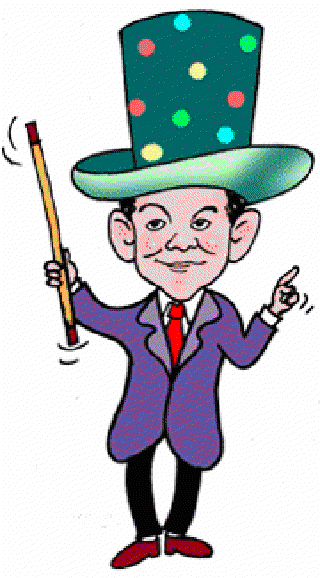 Right from simple tricks like changing the colours of his dress to cutting a people into two and then making them whole again, Bhagyanath is able to do it all. "I don't get tired practicing magic, but when I am not in a good mood then I cannot do it," said the little master.
Apart from doing magic, Bhagyanath likes to draw, sing and act. He attends music classes and has already acted on the small screen with some of the eminent stars of Malayalam cinema.
After doing all this, he still manages to cope with his studies. Of course, the teachers are very helpful. They give him notes for the classes he often has to miss for his performances. His mother makes it a point to carry all his textbooks on his travels so that he can study in his free time. "Bhagyanath is quite sincere about his studies," she says.
"What do you want to become when you grow up?" I asked him.
"A big magician like my father," exulted the little master with confidence. Would he teach me some tricks? He thought for a moment, smiled and said, "I will teach you only if you come to my house, only if I have time and only if I am in the mood." He was smart and probably knew that the chances of me coming to his house were dim.
As I got up to leave, Bhagyanath charmed me with two of his magic tricks. When I tried to perform one of the tricks and failed, he gave me a long silent look, which seemed to say that magic was not my cup of tea. I shouldn't even try. Both of us smiled thereafter.
644 words | 6 minutes
Readability: Grade 6 (11-12 year old children)
Based on Flesch–Kincaid readability scores
Filed under: world news
Tags: #tricks, #kerala, #magic, #magician
You may also be interested in these:
The Green Magician
Man Who Could Make The Taj Disappear
How the Dragon Came to be
A Day in the Life of a Magician
The Magic Painting