July 31: Ever made castles in the sand? Fun. Isn't it? All you need are your hands and a little imagination?
Marjon Katerberg builds castles in the sand all the time. And gets paid for it, too. It's her job.
Marjon is an international sand artist. She has just carved the largest sand sculpture park in the world, according to a report in 'The Indian Express'.
The park is located at a place called Almeerderzand near The Hague in the Netherlands. It stretches over several acres of land. For two years, Almeerderzand has been hosting a sand-sculpting festival. Marjon's sculptures are part of this festival.
Marjon and her team have built 28 sculptures and buildings in the park.
They say that they were inspired by Japanese culture. So there is a Japanese dragon breathing fire. And a Japanese temple with water trickling down its front. And a Samurai warrior and a girl looking out to the sea. All made of sand.
It took Marjon more than just buckets and spades to build these sculptures. It took her a lot of effort. And about half a million dollars.
At first, she planned out what she was to do. Then she had to find sand. Lots and lots of it. But not any sand. To make sculptures that last, she needed special sand — very young river sand. Snad that has been created recently can be called yound sand. Its grains are almost like squares and have not been eroded by wind or water. " It's like working with millions of building blocks," Martin Tedder of Marjon's team told a news agency, who wrote a report on the event.
Fourteen hundred lorries were hired to bring the sand to the site. Following this, Marjon's team got to work. There were 88 specialist sand artists in the team, who worked nonstop for two weeks in early July.
All of the sand was dumped in huge mounds, some of which were 46 feet high. The artists had to go to the top of these mounds and begin their work of carving the shapeless mass into beautiful sculptures.
And they love what they have done. Most of them are architects or sculptors. They all have regular jobs. Like Martin Tedder. Who is a student of a special branch of engineering that deals with designing bridges.
These artists were lured to this job by a peculiar attraction for sand, the simplest of all building materials. "The beauty of sand is that it's so flexible," says Marjon, their leader. "You can do pretty much any kind of sculpture with it."
Still, it was not as easy as it sounds. They had to deal with something they didn't expect – rain.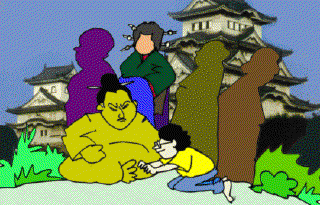 Have you ever seen what happens to your sand-castle after a shower? It is reduced to a soggy, sad lump. You have to start all over again if you want it to look like before. But that too, only after the sun has dried up the sand.
Now, think about the state of Marjon's sculptures after it rained for two weeks continuously in The Netherlands. The sculptors helplessly watched parts of their statues being washed away.
But they didn't give up. As soon as the weather was fine, they resumed work and completed the project. More than 200,000 people are expected to visit the park to see their work. However, the sculptures will only last during summer. By autumn, they will be gone. Rains will loosen the structures and they will have to be bulldozed before they fall over.
But this is not making Marjon and her team sad. They have some sand sculpting to do in Belgium. Only this time it is the wilds in Africa that they will recreate.
634 words | 6 minutes
Readability: Grade 5 (10-11 year old children)
Based on Flesch–Kincaid readability scores
Filed under: world news
Tags: #japan, #festivals, #artists, #netherlands, #castles, #sculptures
You may also be interested in these:
Chinese Sparrows
Holi – The Colours of Spring
Polite Police
Makar Sankranti
Vaikom Mohammed Basheer