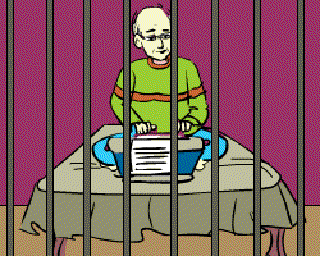 December 9: Stanley "Tookie" Williams is an American writer of children's books. His books are cautionary tales, warning children to stay away from drugs, guns and gangs so common to certain sections of poor America.
Williams has won wide acclaim and two literature prizes. But then Williams is no ordinary children's writer. He is a four-time murderer on death row (waiting to be executed) in California's San Quentin prison. This means that the State will execute him someday for the crimes he has committed.
A
Deutsche Presse Agentur report that appeared in The Indian Express, describes his 'home', the room in which Williams has been penning these tales. His cell on death row is just 1.2 metres wide and barely 3 metres long (imagine a tiny room in which you can barely stand without touching the sides). It's been his home since 1981.
The only piece of furniture in the space is a twin bed, which is covered with a thin mattress that he folds to make a ball each morning. It gives him something to sit on. He uses the bed's steel frame as a desk and on that sits a writer's ultimate tool – the typewriter.
Williams was once the leader of a notorious street gang in Los Angeles. His life story was that of any young man brought up with violence all around him and who had been completely corrupted as a result. He killed four people and for one living so close to the edge, it was a matter of time before the law caught up with him. Then, Williams was arrested and sentenced to death.
It was in jail that the transformation began. An illiterate, the former gang member first taught himself to read and write. His literary career began later, in 1996. Since then he has written and published eight books. They are about South Central LA, a tough neighbourhood in the city. That was where Williams grew up and he founded his gang.
Williams' achievements are remarkable. The surroundings in which he writes and the shadow of death that hovers over him ever since he started writing makes him a tragic and strangely alluring figure. He has been nominated for the 2001 Nobel Peace Prize by a Swiss Member of Parliament, Mario Fehr. Recipients of the Nobel Peace Prize include Nelson Mandela and Mother Theresa.
Hundreds of letters from young readers pour into his cell, giving him the enthusiasm he needs. Williams is convinced now that he wants to spend the rest of his life writing for them. The point is, will he be given a reprieve or will the sins of his past ultimately catch up with him?
452 words | 4 minutes
Readability: Grade 7 (12-13 year old children)
Based on Flesch–Kincaid readability scores
Filed under: world news
Tags: #prizes, #peace
You may also be interested in these:
Young Peacemakers of Colombia
First Pope To Set Foot in Mosque
Talking Through their Hats for Peace
My Dream (A Vision Of Peace)
Super Moms