March 28: Have you been counted yet? But you must have been! There's one head count that cannot afford to leave anyone out. It is the Census 2001.
Census is a small Latin word meaning register. But to the people responsible for conducting it, it implies a marathon task. Census means counting each and every person in the country and gathering data related to them.
In India, the first Census was conducted in 1872. Thereafter, it has been held every 10 years. The groundwork for this Census started two years ago, while the Census operation itself was held between February 9, 2001 to February 28, 2001. A revision was held in the first week of March.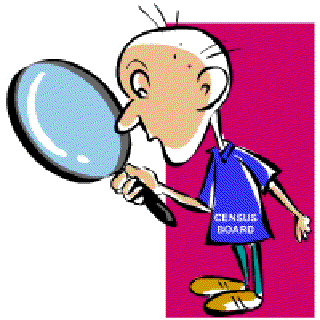 Imagine what a massive exercise counting India's billion people must be! And at the same time, finding out a lot of other things – like where they live, what language they speak, what community and caste they belong to, what work they do, how many rooms and toilets they have in their houses, how far is the nearest source of water, how far is the hospital…Whew!
Some Facts About India
Population crossed the one billion mark on May 11, 2000. If we continue this way, we will overtake China in 2045.

Birthrate fell from 40.8 in 1951 to 26.4 in 1998 approx.

Deathrate fell from 25 in 1951 to nine in 1998 approx.

Infant Mortality Rate fell from 146 in 1951 to 72 in 1998.

Life Expectancy at Birth incresed from 37 in1951 to 62.9 in 1996-2001.

Total Fertility Rate fell from six in 1951 to 3.3 in 1997.The only other country that goes about its Census with a similar door-to-door head count is China. In western countries, all the authorities have to do is mail a form to all the residents and wait for them to mail it back to them. But you see, those countries have the advantage of having nearly 100 per cent literacy, well-defined urban and rural areas and most of all, a much smaller population to count. You must wonder what the Census Board does with all this information that it collects. Or what the need for a Census is anyway? Well, the first mention of Census was made in Kautilya's Arthashastra (321-296 BC), thus indicating that even back then, the need for a census was felt.

Since India is so diverse, the Census is required to assess things like women's education, number of dialects spoken, the number of castes and tribes, the members in each caste, the extent of child labour and other details of this sort.

Once the computers have compiled all this information, the government uses it to make plans about future spending. It devises a budget accordingly and decides how much money to spend on rural development and other things. (E.g. Where to build a school or where one needs a hospital most.)

This time, nearly 2.4 million people went to each and every house in every village in the mountains, hills, forests and desert to count people. Apart from these, they also visited every hostel or barrack where people live. Another important task for them was to count the beggers, street children and the homeless.

There were some new elements added to the Census this year. First, all the houses that the Census officials had covered were marked with a red sticker. Second, the Census Schedule 2001 is divided into three parts – where we live, how and with whom we live and lastly, information about families engaged in cultivation and plantation.

The third novelty this time was that neighbours could not supply information for anyone, even if they knew it. This was because each person's signature was required on their forms!

Let us keep our eyes and ears open to see what new data the Census throws up…
642 words | 6 minutes
Readability: Grade 6 (11-12 year old children)
Based on Flesch–Kincaid readability scores
Filed under: world news
Tags: #india, #population, #census, #hospitals
You may also be interested in these:
Tiger Target
The Grand Head Hunt
The Olympic Gold Rush
Eastward Ho!
Smart Ones and Fools