July 22: Two-year-old Sirisha has been missing since March. Missing along with her are eight siblings. Sirisha's father P.L Narasimhan has been running from pillar to post to get her traced, but has not had any luck so far. Now, the Hyderabad-based Indian has taken the extreme step of appealing to the Federal Bureau of Investigation (FBI) of America, for help. Yes, the same FBI that is shown in Hollywood films as rushing to find the criminal who has hijacked the American President's plane.
Who is Sirisha?
Sirisha is a web site on the World Wide Web. "Her" eight siblings are also web sites. And P.L. Narasimhan, their "father" had registered their "births" with a US based company called Network Solutions Inc some years ago. It registers web sites in the names of particular persons so that nobody else can start another website by the same name. Since most of the important developments in the Internet world originated in the US, web sites all over the world have had to register themselves with companies based there.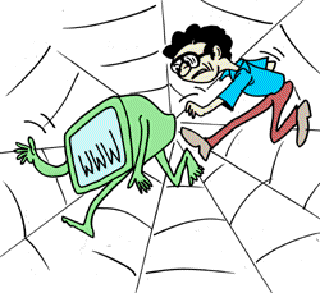 And Narasimhan believes that Network Solutions is involved in the disappearance of his children. In fact, he has told 'The Times of India' newspaper that Network Solutions and a big Indian company called the Stockholding Corporation of India Limited (SCHCIL), in Mumbai, are responsible for making his web sites vanish. SCHCIL has tried to hack into or enter his sites and create problems in them, he says. And all his complaints to Network Solutions have fallen on deaf ears. He had registered the web sites some years ago with the US-based company.
Network Solutions has told Narasimhan that bills for some of his vanished sites, goes to SCHCIL. And Narasimhan cannot understand why and how? For SCHCIL has no connection with the business that his websites are doing, he says. It is a typical case of big companies trying to bully the smaller ones, according to Narasimhan. And he is not the only one facing these problems, says a report in 'The Times of India'.
Unfortunately, the laws governing the Internet are not that strict in India, whereas the US looks at such offences as serious. And that is why Narasimhan has taken his battle to the FBI.
381 words | 3 minutes
Readability: Grade 8 (13-14 year old children)
Based on Flesch–Kincaid readability scores
Filed under: world news
Tags: #india
You may also be interested in these:
The World's Hottest Chili
A Salty Life
Teachers who Ticked Correct Answers Wrong
Creating Light from Garbage
They Make you Swallow a Fish for a Herbal Cure