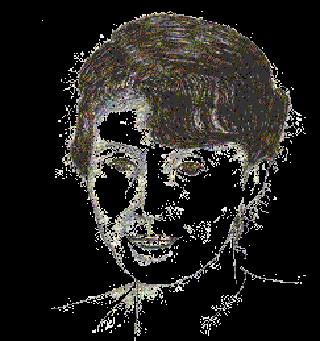 September 23: Two days ago, commuters at the railway station in Myanmar or Burma's capital city Yangon (earlier spelt Rangoon), were confronted with a scary sight. A posse of policemen in riot gear, was swarming all over the station.
No, it wasn't a dreaded terrorist attack that they were guarding against. They were preventing a frail 55 year-old woman from boarding the five pm train to Mandalay, according to reports in 'The Hindu' and 'The Indian Express'.
Two weeks ago, too, she was forcibly brought back to her house and then locked inside for nearly two weeks with her telephone lines cut off.
The woman was Aung San Suu Kyi, the leader of Myanmar's Opposition Party, the National League for Democracy. And, this seemingly frail woman is the single biggest threat to the country's military government for her strong commitment to bring democracy to Myanmar.
This commitment which has won this charismatic leader, who has spent many of the last 12 years under house arrest, the Nobel Peace Prize in 1995.All these years have been spent away from her family, in Britain.
The harsh military government is mortally afraid of this woman who has no weapons except the force of her belief and the faith of her people. It is afraid that she is plotting their downfall. That is why it reacts to her every move with brutal force, backed by guns and bayonets.
This is not the first time that Suu Kyi has had such face-offs with the government. Two-and-a-half years ago, a foreign photographer secretly captured the fascinating photograph of rows and rows of armed security forces facing Suu Kyi, on a bridge near her house, for nearly two days. They had the guns, but they were the ones who were afraid. Then, too, she had wanted to travel out and the government was determined to stop her.
It has been this way ever since Suu Kyi was released from six years of house arrest in 1995. Time and again she has tried to leave Yangon, and has been stopped each time by the military government. Her movements remain severely restricted. During her last attempt to visit Mandalay by train, in 1996, her carriage was disconnected from the train before departure.
The daughter of Burmese national leader General Aung San, who was assassinated in 1947, Aung San Suu Kyi, spent almost all her life abroad, and married a British academician.
In 1988, while on a visit to Myanmar, Suu Kyi joined the pro-democracy movement which was demanding political reforms in the country. On August 26, she addressed a mass rally in Yangon and called for a democratic government. For this act of courage she was arrested and detained for almost six years by the military government.
Elections were held and Suu Kyi's party, NLD, won a landslide victory. She was hailed as Burma's charismatic leader. But the army generals stepped in and clamped martial law, preventing her from forming the government.
It has been a life of confrontation since then for Aung San Suu Kyi, who represents the great hope for her country's youth and its people. And the most important aspect of Suu Kyi's 'fight' is her commitment to nonviolence. If people use violent means to try and change their situation they will always fall back upon that method as the easiest way to solve their problems, she says.
Her long fight has forced the world to sit up and take notice of the woman who will just not give up. She was not able to meet her ailing husband who died some years ago, in Britain. And it has been a long time since she has seen her two sons.
And that is why she is the undisputed leader of the Burmese people. They hope and they know that with her at the head of their struggle, the generals will have to bow down – if not today, then tomorrow.
660 words | 6 minutes
Readability: Grade 8 (13-14 year old children)
Based on Flesch–Kincaid readability scores
Filed under: world news
Tags: #democracy, #trains, #burma, #myanmar
You may also be interested in these:
Aung San Suu Kyi
King of Fruits – History of Mango!
Why Does Time Start in Greenwich?
Who Invented Traffic Lights?
A Train Adventure of Wild Animals