June 24: In a country like India, the lives of people are often lost because there is no help at hand. Many people think of it as fate and do nothing. But a group of poor village women have shown the way to the people of the southern state of Kerala, says a report in 'The Indian Express'..
Sometime ago, a woman from Parappa village became seriously ill. She started bleeding heavily. The villagers frantically hunted for a vehicle to take her to the hospital, which was 40 km away. The woman survived. It was almost a miracle that she survived, said the doctor. For, she had lost a lot of blood.
After this experience, the women of Parappa decided to get into action. They no longer wanted to leave things to chance. So they formed an army of blood donors in their village. The group is called the Women Blood Donors Forum, and is the first of its kind in Kerala. The women are supported by other women's groups in Kerala. All these activities are managed by an organisation, called the Sahaya Sangham Federation.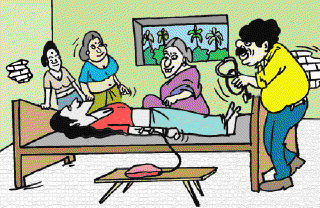 Now the Women Blood Donors Forum has 200 volunteers, most of whom are poor agricultural workers and housewives. The forum now plans to expand its activities to the entire hill region in northern Kerala.
228 words | 2 minutes
Readability: Grade 7 (12-13 year old children)
Based on Flesch–Kincaid readability scores
Filed under: world news
Tags: #india, #kerala
You may also be interested in these:
Romance of Postage Stamps
The Flood
The Telegraph
Snake People
Gems of Indian Literature