There is a ray of hope for quake hit-Gujarat. All it needs to do is listen to a 12-year-old girl, Prutha Desai. She might be small but towers over many in spirit. This girl who lost her right arm in the January 26 earthquake, six months ago, has shown great courage in starting life afresh, literally: from learning to write with her left hand to wearing socks. But what is remarkable is that Prutha hasn't lost her smile, courage, or creativity in drawing and art, says a report in The Indian Express.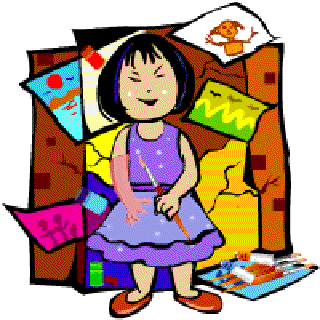 Prutha says she can still feel her right arm as it was before it was amputated by surgery on January 27, 34 hours after she was brought out from the debris following the earthquake. Having lost her right hand, the first hurdle the 12-year-old had to cross was the idea of using her left hand to write and draw.
"Initially I would get frustrated as my left hand was not stable and I could not draw properly," she says in the report. But her father and uncle supported her all through. They gave her the courage which she needed most at that point of time. "People with one hand can do better than those with both hands," she repeats after her father Bakul Desai.
Recalling that fatal Friday, Prutha says "My right hand was stuck in the window of one of the cars in the parking lot. While I was buried, I kept telling myself that I would be rescued, but when no one turned up till night and the pain became unbearable, I started chanting 'Om Namah Shivaya'". A friend who had seen her arm being taken away said that it had turned black and was looking gross, adds the young girl.
Prutha realised her loss in hospital: "On the third day…I tried to get up and wanted to put my hand on the bed to support myself. But I could not. I cried a lot for the first 30 minutes."
But the important thing is that Prutha did not give up. She may not be able to play badminton, but she does take part in volleyball games. And the day she managed to wear her socks on her own she felt as if she had "conquered the world".
Though Prutha has got a prosthetic (artificial) limb, she prefers to go without it. "It is quite uncomfortable and I wear it only when I have to draw diagrams in Geometry," says Prutha. "When I don't wear it, I feel that my hand is still there," she adds.
Prutha was a special guest when the former US President Bill Clinton visited Gujarat after the quake. She has also won national and international awards for her drawings, one of which she presented to Clinton on his visit. But she is very clear that she wants to be famous because of her talent, not because of her condition.
Although exact statistics are lacking, it is estimated that 10 per cent of the one billion population of India is disabled. About 45 per cent of these are related to physical disability, of which half require a prosthesis in one form or another, according to the O & P World website.
547 words | 5 minutes
Readability: Grade 7 (12-13 year old children)
Based on Flesch–Kincaid readability scores
Filed under: world news
Tags: #india, #earthquake, #gujarat, #socks
You may also be interested in these:
5000 Years Old Quake-proof Town
A Debt Repaid
Building a Giant Lie
The Quake that rocked Gujarat
Still Standing Tall