August 26: Last week, 70 children from the Narmada Valley were in the Capital, meeting with other children, journalists, activists and supporters in an attempt to share with them their very real apprehension that soon their homes and villages would be under water. They hoped that their voices would be carried to the President and that he would respond positively to their call.
Every evening, the India Gate lawns, in New Delhi, become one vast picnic spot. They are full of wide-eyed tourists, families and giggly children on outings. Vendors selling ice cream, popcorn, candy floss and chana jor garam mushroom as if by magic. But August 21 was different, at least in the small lawn – closest to India Gate.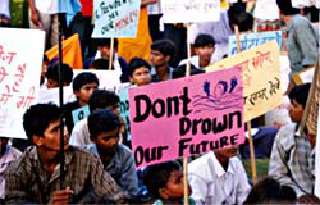 That's where some of Delhi's most well known personalities, including writer Arundhati Roy and senior journalist Kuldip Nayar, gathered with many others to receive a group of around 70 children, who had completed a marathon journey from the Narmada Valley to Delhi.
Coming from villages in Maharashtra and Madhya Pradesh and Gujarat, that will get submerged if the Sardar Sarovar Dam Project (SSP) is completed, these children sent a symbolic message to the President of India saying that their homes, schools, play grounds will all submerged – and so will their futures. That is, if they survive (The SSP is one among 3165 dams planned on the river Narmada). The children ranged from eight year-old Ram, 10-year-old Chetna and 11-year-old Kalshin, to 17-year-old Sapna Kanera.
Some study in government schools, while the children from the adivasi areas study in residential jeevanshalas (literally life schools) As many as 5000 families and 11 jeevanshalas, housing 850 tribal children are in danger of being submerged this monsoon. Most of these children are the first generation to reach school. School has widened their horizons, and they want to take their rightful place in the world, along with other children.
No wonder, dusty, tired and ruddy cheeked from exertion, they still had the energy to raise their voices to the heavens at the India Gate lawn, saying 'Narmada ko bahne do, hum bachhon ko jeene do', (let the Narmada river flow, let us children live) 'Ladenge, Jeetenge' (we will fight and win), or 'Amo akha ek hai' (our hope is one, in their tribal dialect). Other posters proclaimed, 'Build Schools, Not Dams', 'Life or death, which will you choose?'
Standing before a huge crowd of journalists, teachers, writers and well wishers from all walks of life, 17 year old Sapna told them the story of her life. Seeing her quiet confidence, the audience listened, rapt.
"When we were on our way to Delhi, I was wondering who would listen to me. After all, Delhi is full of concrete buildings. But now that we are here in these lawns, I know that the breeze and the trees will carry our message to the Rashtrapati. I hear he is fond of children," said Sapna.
"I was four years old, when my parents would leave me alone and go off to take part in the andolan. I felt lonely until one day they said, we have to struggle today or tomorrow we may lose our home and land, and you may get separated from your friends and family," said Sapna.
"I know exactly how they feel,"she said looking at the young children in her group. "They should be playing at this age, instead they have come on the roads and walked all the way from their homes, because they do not want to lose their houses and schools."
And that's what each of these children convey, as they speak of their home and school- the reality of being uprooted and displaced. This is what they have come to tell the people in Delhi and what they have told everyone they have met on their journey.
How many jeevan yatras will they have to undertake to ensure that the jeevanshalas – and hope – remain?
666 words | 7 minutes
Readability: Grade 8 (13-14 year old children)
Based on Flesch–Kincaid readability scores
Filed under: world news
Tags: #india, #rivers, #families, #study
You may also be interested in these:
This Bird Paradise Stinks!
What is Water Harvesting?
Save rivers, lakes from worshippers
Eleven-year-old Eco-ambassador
Creating Light from Garbage