Elvis Presley (1935-1977):
"Truth is like the sun, you can shut it out but it ain't goin' away," said Elvis Presley. Little did he know how apt those words would be to his musical career. Everyone told the King of Rock that he would not become a successful singer but he kept trying till he did.
From a humble beginning to ruling radio, television and the silver screen. Elvis Presley was an icon and the best selling solo artist of all time. The music he made was known as Rockabilly. It is a fusion mix of Country, Rhythm and the Blues. Country music is the traditional folk music from the southern states of America. It was primarily written and enjoyed by white Americans. Rhythm and Blues are often spoken of together and abbreviated as R&B. It is any music with a heavy and intense beat. Like Country, Blues also arose from the southern American states but was written and enjoyed mainly by black Americans. The fusion mix of Country, Rhythm and the Blues that Elvis made was enjoyed by everyone.
Did you know that Elvis did not write a single one of his songs? However, he put such a wonderful twist on old songs that most people still think that he was the original artist.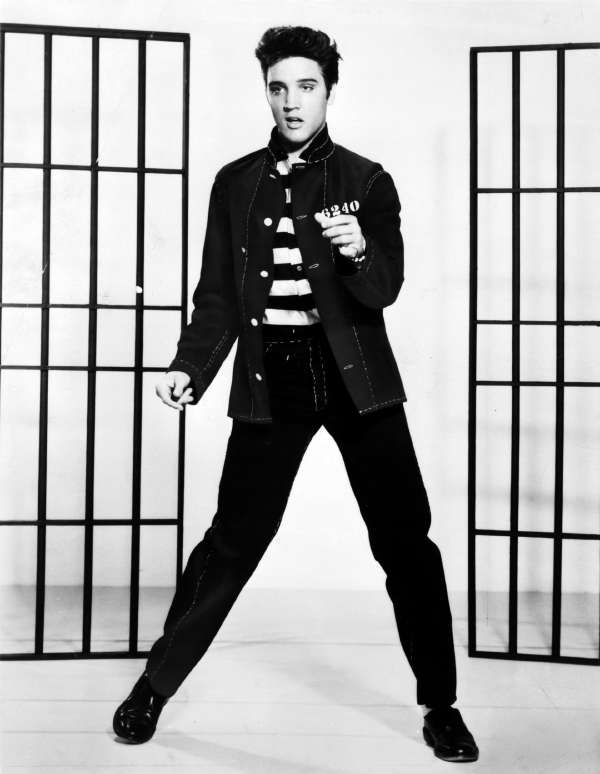 Elvis Aaron Presley was born on January 8, 1935 in Tupelo, Mississippi. A few months after his 10th birthday, he received his first guitar. Over the next year, he was taught the basics by his uncles. While he was regularly teased and bullied for his singing, he had a close group of friends who went out of their way to help him. One of them helped the young Elvis get his first live performance. This was critical in helping him overcome his stage fright. By the time he finished school in 1953, Elvis was certain that he wanted to make a career in music.
After graduating, Elvis recorded several singles using money he had saved. Every single professional musician he met told him that he would never make it as a singer. During this time, producer Sam Phillips was looking for a white man who sounded like a black man. Most of America was white. They had a mental barrier against anything made by African Americans. It was critical to find a stepping stone between the two cultures. They wanted to hear the music of African Americans, but from the mouth of a white American. Elvis filled this need perfectly. This is the considered by many as the main reason behind the incredible success of Elvis.
Once Elvis' early recordings were brought to the attention of Sam Phillips, he promptly asked him to come to his studio and record more songs. Phillips found a bassist and lead guitarist to accompany him. This session almost failed. Just as they were packing up to leave. Elvis picked up the guitar and began jamming. He was trying to have a good time and make the most of the recording session. His guitarist and bassist joined along and Phillips fell in love with their sound. The song they covered was named "That's All Right" by Arthur Crudup. It became a hit through the local radio stations and was eventually released to the public.
During this time, Elvis was drafted for the army and asked to fight in the Korean War. He served his country happily. Elvis returned to America and continued to record more music. He was a rising star but there was another problem. His sound was too African American for the country music stations, which had white audiences. Yet, it was too white for the blues music stations, which had black audiences. It became difficult for him to get airtime on radio stations. Since this was the main method a musician had for reaching his audience, it was a huge problem.
In 1958, Elvis recorded his first studio album and tried something new. He recreated songs by earlier artists by changing the vocals and making the guitar as the primary instrument. This was well received by the public and became the first rock and roll album to reach the top of the Billboard charts. It marks the moment Elvis overcame all the barriers and became commercially successful. Soon, he was signed up by the biggest label in the country.
Over the next 15 years, Elvis recorded several albums and featured in over 30 movies. He generated a massive following, particularly among the youth. Late into his career, Elvis developed an addiction to prescription medicines. It caused a variety of medical conditions and changed his body completely.
Years of bad diet, lack of exercise, drug abuse, and stress had transformed the young and energetic boy into an overweight and dull old man. On the 16th of August 1977, at the age of 42 and under the influence of drugs Elvis had a heart attack and died. After an investigation, it was found that his doctor had been unethically and illegally prescribed drugs to Elvis which eventually lead to his death. His death was mourned across America.
Presley helped popularize rock 'n' roll music in America. His music was an inspiration to the youth. He received numerous awards for his music and was a commercial success. Elvis faced many barriers in his life. He rose from poverty, never gave up, and proved everyone wrong to achieve the title, "King of Rock n Roll".
Born: 8 January 1935, Tupelo, Mississippi
Died: 16 August 1977, Memphis, Tennesse
Education: East Tupelo Consolidated (1941 - 1946)
Major contribution: Song sales, 18 songs to reach number one, 36 songs to reach top ten
More about Elvis Presley
948 words | 9 minutes
Readability: Grade 8 (13-14 year old children)
Based on Flesch–Kincaid readability scores
Filed under: biography
Tags: #african americans, #blues, #country, #rhythm
You may also be interested in these:
Juneteenth: Celebrating End of Slavery in the United States of America
Barack Obama Sworn In As 44th American President
Who is the real McCoy?