Twelve year-old Leonardo Herrera had never seen a book in his life although he knew how to read. He and his friends used to carve letters and numbers on cactus leaves after seeing their teacher do the same on small blackboards.
He belongs to poor peasant family in Bambamarca in Peru. His family grows maize and potatoes in a place which is 12,000 feet above sea-level.
But Leonardo wanted to see what a book looks like. So he asked the new priest in his parish to give him one. But there was no electricity in his village. So Leonardo borrowed candles from the church and sat up all night reading it. By dawn, he was at the door of the priest asking for another book to read.
John Medcalf, the priest, was moved. He also realised that people would love to read if given a chance. But he knew how difficult it was for Leonardo and those in his village to get books.
And yet, no one can be taught to read and write without books. To make people grow to love books, they have be with them. But, how could Medcalf make this possible in a poor, remote region like Bambamarca? As he writes in Index, a London-based magazine, there could be only one solution. By bringing books to people.
But how could this be done? Mobile libraries or vehicles carrying books would be too expensive and difficult to maintain in the rough and rocky terrain of Peru. So what other method could be used to bring books to the peasant-reader? It had to be direct, easy and informal.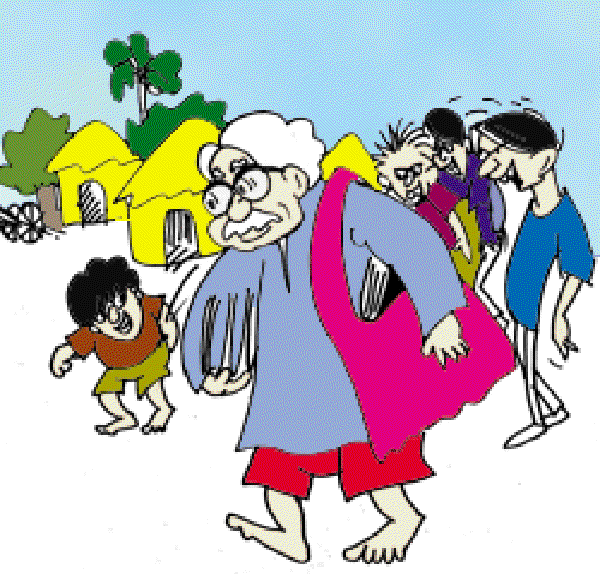 Medcalf drew inspiration from the barefoot doctors of China. And that was how the barefoot librarians first appeared in the villages of northern Peru, almost thirty years ago.
The librarians began by going from village to village, lending books to campesinos, which is what villagers in Peru are known. They helped start The Rural Library Network of Peru.
At first, they were teachers of the village schools, to which these rural libraries were attached. But the teachers were not very interested in the job because it meant a lot of hard work. So, village elders took on the job themselves.
Today, there are 600 village libraries across Peru under The Rural Library Network. The barefoot librarians who walk up to 15 hours a day with knapsacks are its lifeline. Some of them even ride on their pack animals carrying saddle-bags. Each bag contains about 24 books. A typical selection includes books on health and first-aid, poetry, legends, folk tales, and religious books.
Children's stories, read hungrily by both adults and kids, and books on law, are hot favourites.
Every month, the librarians travel to the city of Cajamarca to exchange the books. They have become so important that now they have been given the responsibility of guarding their culture. Like protecting archaeological sites from trouble-makers. Lately, the librarians (and some readers) have taken to writing and publishing illustrated books themselves.
Not all are happy with this state of affairs. The rich and powerful of Peru don't like it that access to books is making the campesinos think. The government, too, is indifferent. But for the villagers, nothing could be more wonderful.
Instruction books help them earn money. Books on agriculture, for example, are being used to learn bee keeping and other farming skills. Peasant families are no longer keen on migrating to cities. Story books keep them entertained. Law books teach them how to protect themselves from being used. Books are helping them discover opportunities which they have failed to see so far in their villages.
And, Leonardo, the boy who inspired the library revolution, is today a village school-teacher. As much in love with books as ever. The barefoot librarians have ensured that he remain that way forever.
646 words | 6 minutes
Readability: Grade 7 (12-13 year old children)
Based on Flesch–Kincaid readability scores
Filed under: features
Tags: #priest, #library, #barefoot
You may also be interested in these:
The Priest, the Tiger and the Jackal
The Priest's Successor
Two Girls and a Lotus
The Sweet Taste of Success
Gems of Indian Literature