Vishnudas Bhave's puppets had to go through a long ordeal before they finally got to the right place and in the hands of the right people. It was not just a long journey but a tough one too.
This story dates back to the year 1843, when the father of Marathi theatre, Vishnudas Bhave created his puppets, in Maharashtra's Sangli district. They were not ordinary wooden puppets. They were so life-like that it seemed they would talk to you any moment. They put life into every play that he put up on stage. 'Seeta Swayamvar' became the most well known of his puppet dramas.
The puppets were as real for Vishnudas as were humans. His puppets were like children to him, and he took great care of them. But everything changed with his death in 1901. His puppets became orphans. For the next 47 years they lay uncared for in a dark room. One fateful day, in 1948, a fire broke out in the house and burnt more than half of Vishnudas' treasured puppets. Even this tragedy did not make people take notice of the treasure that lay neglected, says a recent report in 'The Indian Express'.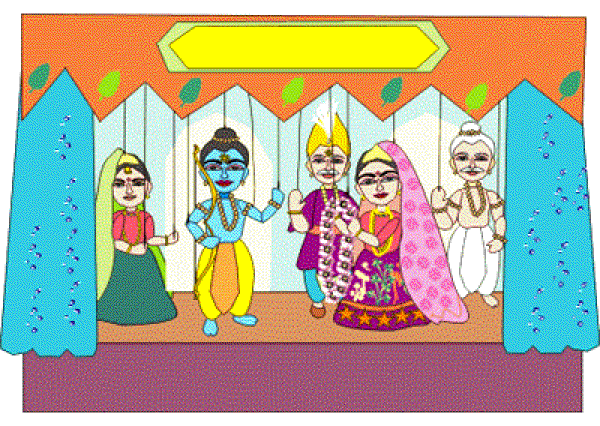 It was only about 20 years ago, in the early 1980s, that the puppets were remembered. One individual wanted to bring back to life on stage all of Vishnudas Bhave's puppets. This man was the Mumbai-based singer-actor, Bhalchandra Pendharkar.
But, tragedy struck again when the truck carrying the precious dolls from Sangli to Mumbai suffered a mishap on the outskirts of Mumbai. The puppets lay by the wayside in Girgaum for several months, suffering the onslaught of torrential rains during the monsoon. When it rains in Mumbai, there is so much water on the streets that children can even swim in it, like eager ducks.
Totally ruined by the rains, the puppets finally found their way to a workshop in Dadar, Mumbai. The workshop was run by the husband-wife team of Ramdas and Aparna Padhye. From then onward started the rebirth of Vishnudas' puppets. The Padhyes separated each and every joint of the puppets and re-created them. It took them almost five years to recreate 20 puppets. There was very little written material on how Vishnudas' arranged his puppet plays.
Going by a very short document prepared by Vishnudas himself a long time ago, the Padhyes created a play from a situation in the Mahabharata, 'Draupadi Swayamvar'. The play was performed in Mumbai last month. It had taken the Padhyes almost 15 years to infuse life into the puppets.
This was only the beginning. Padhye also took help from organisations like the Puppeteers of America to get more material on Vishnudas puppets. He also decided to create a special Bhave webpage on his website on puppetry.
Not only this, he took Bhave's puppets to London for a lecture demonstration where the experts were amazed to see such refined work. "They wanted some puppets for sample study. I straightaway refused. I shall not part with this legacy even for one lakh pounds (100,000 pounds)" remarked Padhye.
519 words | 5 minutes
Readability: Grade 6 (11-12 year old children)
Based on Flesch–Kincaid readability scores
Filed under: features
Tags: #mumbai, #rains, #tragedy, #puppets
You may also be interested in these:
The Plastic Menace
Ali Sardar Jafri
The Slum Hero
How the First House was Built
Paper Bag Tiger