June 10: Who is that mousy lady in a sari? What is the clown doing with a huge ball that looks like the sun? And what is this — a man with the heads of two big-eyed cows in his hands? All of them look like they want to tell a story. Their story. And that's exactly what they do, for they are all puppets. And when their master pulls the strings and speaks from behind the curtain, they sing and dance, play and fight, laugh and cry.
Some days ago, puppet groups from all over India got together at the Indian capital of New Delhi for an exhibition and festival. When people entered the exhibition at the India International Centre, it was like entering a magic land of fairies, or the animal land of the Panchatantra. But some puppets also made you think of children who live a hard life on the street and work for a living.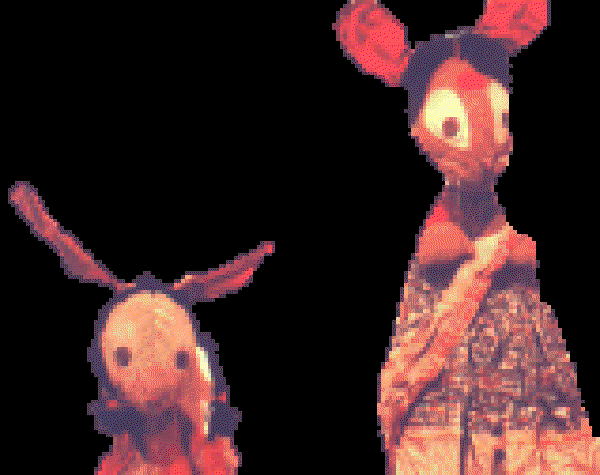 Several of them came from Rajasthan, where puppet making and puppet plays have been passed down from father to son for many generations. They are people from the Bhat community, and perform puppet shows in the same way as their grandfathers or their grandfathers did. The Aakar Puppet Group was one such group (Aakar means form or shape in Hindi).
But there were other puppet groups which have been formed by artists who have not learnt puppetry as a part of their family profession. Like the Ishara group of the famous artist, Dadi Pudumjee.
In the evenings, puppet plays were held in the garden with magical lights and shadows. And children and adults watched with open mouths as fairies danced in the air and tall giants walked the earth. There were several plays that were especially for children.
One such play was 'The Flowering Tree'. It was the story of a poor village girl who gets magical powers. She turns herself into a tree which bears the most beautiful and fragrant flowers in the kingdom. 'Mila and the Clock' was the story of a 12-year-old girl who likes machines and not dolls. And 'Lal Kaleen' (Red Carpet), was a story of street children who have to work for a living and are treated like animals by their employers.
Some groups like the Aakar group presented a show on how puppets were first made. They told a story of why their shows are not so popular with Indians in today's television age, while they have received praise in foreign countries for their performances.
425 words | 4 minutes
Readability: Grade 6 (11-12 year old children)
Based on Flesch–Kincaid readability scores
Filed under: features
Tags: #india, #streets, #puppets
You may also be interested in these:
AHA! Books: Arvind Gupta
History of India