When Rabindranath Tagore won the Nobel Prize for Literature in 1913 for his poems in Gitanjali , he was the first Asian to be so honoured. We've seen pictures of him with his flowing grey beard and smiling eyes, clad in a long saffron robe. We know him as the man who founded the unusual gurukula or school at Shantiniketan in West Bengal in 1901.
We also know that he's the only poet whose verses have been chosen as the national anthems of two countries – India and Bangladesh.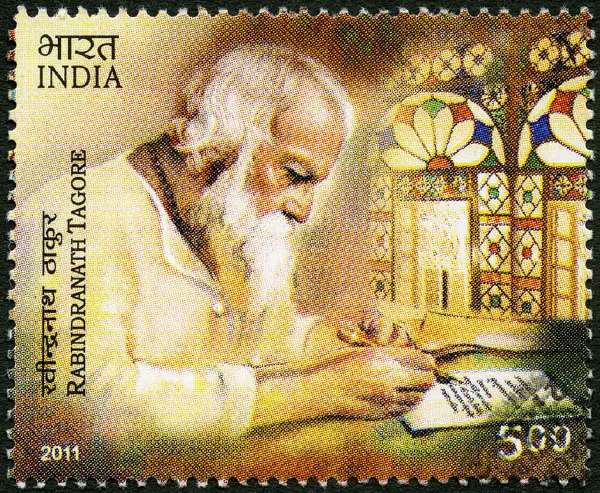 What many of us don't know is that many of his adult dreams were shaped by his childhood, his family and his schooling. Let's flip a few pages backwards, and find out what he was like as a child named Rabi, for that's what his family called him.
Rabi was born on May 7, 1861. He was the second youngest of nine sons and six daughters of Debendranath Tagore and Sarada Devi.
Debendranath – who was a rather saintly man – lived in the hill station of Dalhousie, in Uttar Pradesh, when Rabi was young. The child missed his Baba, who was so far away.
When his younger brother died suddenly as an infant, Rabi found himself as the baby of the joint Tagore family, at their sprawling mansion at Jorasanko in Calcutta. Its inner courtyard could hold at least a thousand people, and often did, at social gatherings of the Tagores.
Rabi was never alone, but constantly surrounded by cousins and nephews who wanted to play. His older sister's son, Satya, was closest to him. The Tagore children faced a stream of tutors all day long, each with a cane in hand!
The Jorasanko mansion must have seemed like an unexplored kingdom to little Rabi, who enjoyed playing alone, so that his imagination could soar. At five or six, he would choose a large room surrounded by verandahs with straight, tall railings, which he pretended were his pupils. He would imagine that he was teaching, and hit each railing with a cane very often!
When Rabi did go to his first school, the Oriental Seminary in Calcutta in 1868, he hated it. If he didn't do his lessons, he had to stand on a bench with his slate on his head. He got caned, too, especially for daydreaming. He spent all his time looking out of the window at the blue sky, the leaves on the trees or the bright flowers. Perhaps that's what inspired Shantiniketan, where lessons were done under shady trees, without classrooms!
Since all the Tagores spoke Bengali at home, they were puzzled when Rabi came home one day chanting his first words in English: Singel single melaling melaling! It was only when he grew older that Rabi figured out what the words really were: 'Singing singing merrily merrily!'
When he was 11, Debendranath asked Rabi if he'd like to travel to Dalhousie with him. Rabi jumped with joy at the idea. But Satya didn't like the idea of his playmate going away. So, he told him terrible tales of how the train might toss Rabi out of the window or through the roof as it jerked along! Of course, Rabi arrived in Dalhousie safely despite his childish fears.
In spite of the cold in Dalhousie, Rabi loved it there. After a cold bath every morning, Debendranath would teach him Sanskrit, which he loved for the rest of his life.
To make young Rabi come to terms with figures, his father gave him money for the household and asked him to keep a daily account of it. But Rabi was so absentminded that his account book showed money left over every day, even when it had all been spent! Debendranath joked, "Rabi, I'll give all my money to you. Then, it'll never be spent!"
Back in Calcutta, the Tagore home was constantly filled with music, theatre and other cultural activities. Rabi later wrote, "I do not remember a time when I could not sing." No wonder his songs, or Rabindra Sangeet, later became so famous.
Rabi was next sent to the Normal School. By this time, his older brothers came to be very proud of Rabi's poetic way with words.
When the principal of the school heard Rabi was a young poet, he made up two lines of poetry and asked the boy to complete the verse. Imagine his surprise when Rabi did, simply, and with ease!
Rabi was 14 when he first read out one of his poems at the Hindu Mela in Calcutta. That's when the world first heard the voice of Rabindranath Tagore, the poet who was proud to be an Indian.
784 words | 7 minutes
Readability: Grade 6 (11-12 year old children)
Based on Flesch–Kincaid readability scores
Filed under: features
Tags: #nobel prize, #calcutta, #rabindranath tagore
You may also be interested in these:
Rabindranath Tagore
The Business of Festivals
How to Write the Right Way
Martin Luther King, Jr.
The Day it Rained Fish