Japan: Mothers for peace
Did you know that mothers in Japan were among the first to protest against nuclear weapons? This happened 45 years ago, in 1955.
In 1945, at the fag end of the Second World War, the US dropped atomic bombs on the Japanese cities of Hiroshima and Nagasaki. The bombs killed 3,40,000 people. About 300,000 were left alive, but they suffered all through their lives from the horrible effects of radiation.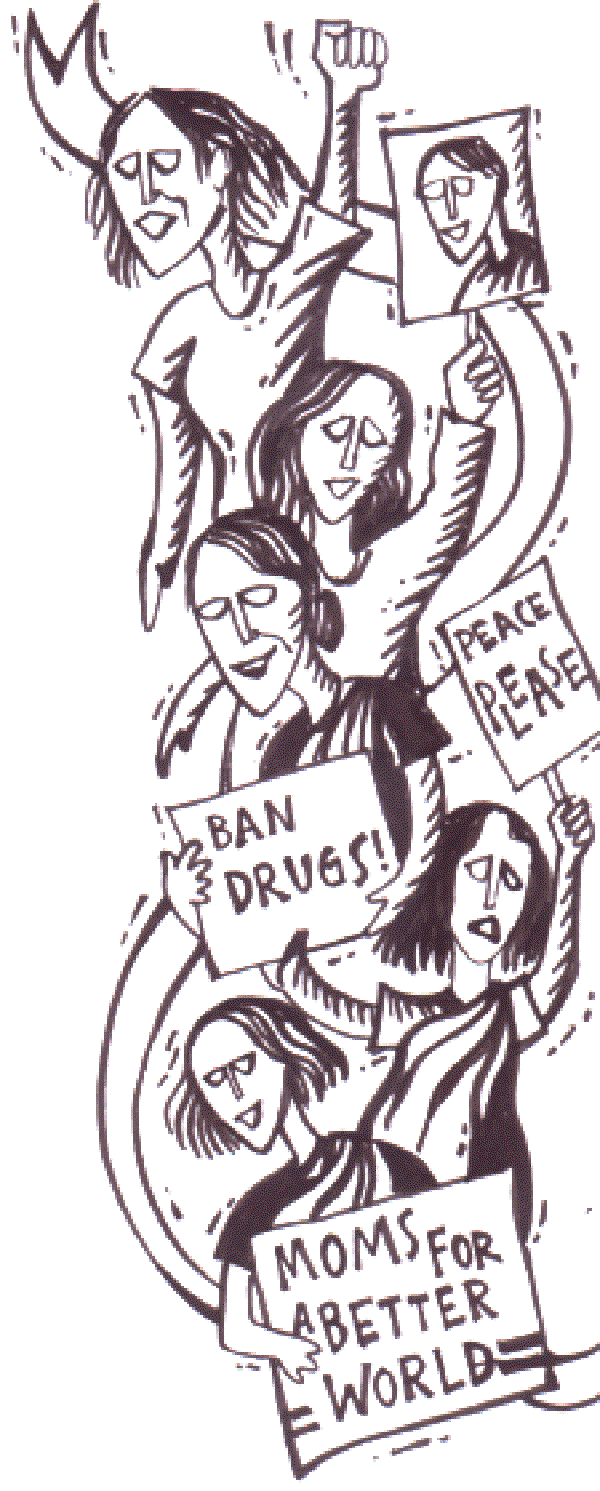 For a long time no one spoke about the terrible tragedy. The US forces were in Japan till 1953. They also did one nuclear test after another.
America's nuclear test of 1954, in Marshall Islands, had a radiation effect on Japanese fishermen who were near that area. That made the people of Japan very angry. In 1955, women got together for a Mother's Congress and protested against nuclear weapons. A big peace movement started in Japan after that.
El Salvador: Mothers against guns
Did you know that more than 15 years ago, mothers in the Latin American country of El Salvador had a big hand in stopping violence and killings in their country?
El Salvador was ruled by a military dictator at that time. The people were not free to live as they pleased. Those who protested, were taken away by the government's secret service. Many Salvadorans started fighting the government. Some formed guerrilla groups. There was nothing but violence everywhere. Ordinary people were hit hard from all sides.
It was then that thousands of women got into action — non violent action. They held peace marches, protests and strikes. They carried posters of their sons who had disappeared. The government accused them of being traitors but they did not care. Finally, the government and the guerrilla groups reached a settlement. The mothers won.
Sri Lanka: Mothers of missing children
While the Sri Lankan army and the Liberation Tigers of Tamil Eelam (LTTE) are fighting a bitter war, women from both sides have formed a Mother's Front.
They have protested against the disappearance of their sons in the violence that has been going on for the last 17 years. Thousands of people have either been killed, or they have disappeared. They have held rallies and they have also asked the government to take action.
India: Grandmothers against drugs
A group of old women in India's north-eastern state of Manipur have come together to guard their villages at night.
They are trying to see that their children do not end up taking drugs. They have been doing this for almost 10 years now. Armed with torches and iron gongs, the elderly women sit at the village entrance under a tin shed. If they sense any trouble, they ring the gongs and warn the villagers
Most of these women are old. Some of them are as old as 80 years, and they have helped save many young lives.
486 words | 4 minutes
Readability: Grade 7 (12-13 year old children)
Based on Flesch–Kincaid readability scores
Filed under: features
Tags: #japan, #violence, #peace, #hiroshima, #bombs, #radiation
You may also be interested in these:
The Whale Hunt is On
Sadako's Cranes
Three Nations or One?
Is Bamboo a Grass!
The Girl who Squeezed a Peacock