It is not a new way of spreading happiness. The method has been practised for a while and has also been captured on celluloid by Hollywood in the film 'Patch Adams'. In the film (based on a true story) Patch Adams is the name of a student
of medicine, who decides to use humour to help patients. The role was played by Robin Williams, Hollywood's leading comedian.
This technique has been adopted in Brazil, to great success. Members of the 'Group of Frolic' (Turma da Pholia) regularly visit hospitals to cheer patients in Rio de Janeiro. Their clowning around helps in the treatment, say doctors. While their methods might be somewhat unusual, a sound principle governs them: a good state of mind can increase the immunity of a patient and speed up recovery.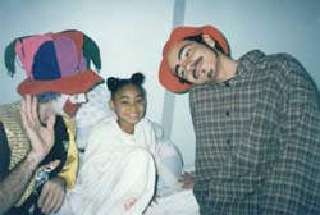 But how do they bring about a good state of mind? By bringing theatre, music and poetry to people in hospitals, orphanages and asylums. "The reception we have been getting is wonderful. The reward for bringing a smile to the face of a child is well worth the effort that we put in," says Micheli Bento Cortermani, a 16-year-old member of the group.
The 'Group of Frolic' was founded in São Paulo two years ago. The group consists of 25 actors, clowns and musicians, between 16 and 30 years of age.
"I have not done any scientific research on the subject but after
members of the group have visited the hospital, the patients accept
the treatment more easily," says a doctor.
Some research on the subject has been done, though. Doctor Sebastião
Carlos Silva Jr, is a neurosurgeon (brain surgeon) at the Clinic of Happiness of the
School of Medicine of São José do Rio Preto. He has written
an entire article on various ways to handle pain.
Members of bodies like the Clinic of Happiness, through their visits, try and forge close links with patients suffering from chronic pain. They do so by showing the patients how to breathe properly, and encouraging them to visualize and relax through the performances.
These activities act on the emotions and imagination of those who are suffering. The connection thus formed between the body and the mind helps in reducing pain, says Carlos. For it's known that the feeling that one is in pain is more
when the person is scared, or sad, or lonely, or is suffering from a lack of sleep.
The patients look forward to regular visits by members of the group
(they visit at the same time every day) help in breaking monotony.
"It is nice to have the same group of people coming regularly
because patients, especially children, look forward to these
visits," says he.
Members of the Clinic of Happiness go to five hospitals on a regular basis and collect money for work through the sale of postcards and T-shirts on street corners. They are thoroughly trained for the job, even not to be depressed while dealing with seriously-ill patients.
In the city of São Paulo, another group called Doctor of Happiness (Doutores da
Alegria) is also following the same technique to make patients happy. It does not work with volunteers though. Members of this group too visit hospitals at the same time on specific days of the week. They create a strong bond of friendship and trust with the patients.
These groups are yet another testimony to the time-tested saying, that laughter can be the best medicine.
578 words | 5 minutes
Readability: Grade 8 (13-14 year old children)
Based on Flesch–Kincaid readability scores
Filed under: features
Tags: #doctors, #patients, #happiness, #hospitals, #hollywood, #medicine
You may also be interested in these:
Eastward Ho!
Rat Menace
Who's Stealing the Doctors' Clothes?
They Make you Swallow a Fish for a Herbal Cure
Do Aphasics Make Great Lie Detectors?