I was back in my village after a long time. Tall pines and Deodars greeted me as I walked uphill, on the twisty 'kuccha-pukka' road. It is a small village, tucked away in the lower ranges of the Garhwal Himalayas, in northern Indian state of Uttaranchal. As my house came into view, my thrill knew no bounds. I was glad to be back.
It was a week-long family 'puja' that had brought the whole family together at the village. I met all the cousins, uncles, aunts and grandparents who had come from different corners of the country, where they now live.
Soon it was night and darkness engulfed the mountains. It was time for countless twinkling stars to shine like jewels in the sky. It was a breathtaking sight. I slept peacefully.
When I woke up in the morning I got a pleasant surprise. There was a small heap of colourful flowers by my side. They were button daisies, Iris and Phyunil, a hill flower. For the next few days, every morning I woke up to the refreshing sight of mountain flowers by my side, or at the doorstep. But it had me puzzled.
No longer able to hold my curiosity, I rushed to my grandmother to ask her what it meant. She laughed and said, "Oh that! It is a part of 'Phulyari'!"
"But what is Phulyari?"
"A celebration of spring," grandmother replied simply.
We went out to sit in the warm sun and grandmother explained that the custom of Phulyari is observed in the villages of Tehri, in Garhwal. It is a kind of festival that celebrates the coming of spring. And what better way to celebrate spring than by bringing a whiff of it to your doorstep, or right up to your bedside!
The month-long festival begins at the onset of spring in March-April. It is an army of little pre-teen girls that brings the spring of wild flowers to every doorstep, in the village. The flowers have to be plucked after sunset and before sunrise. So, the little ones wake up before daybreak, pick up their baskets and proceed towards the hills. Humming the local folk song, "Chala phulyari lena", they hasten lest the sun rises before their job is done.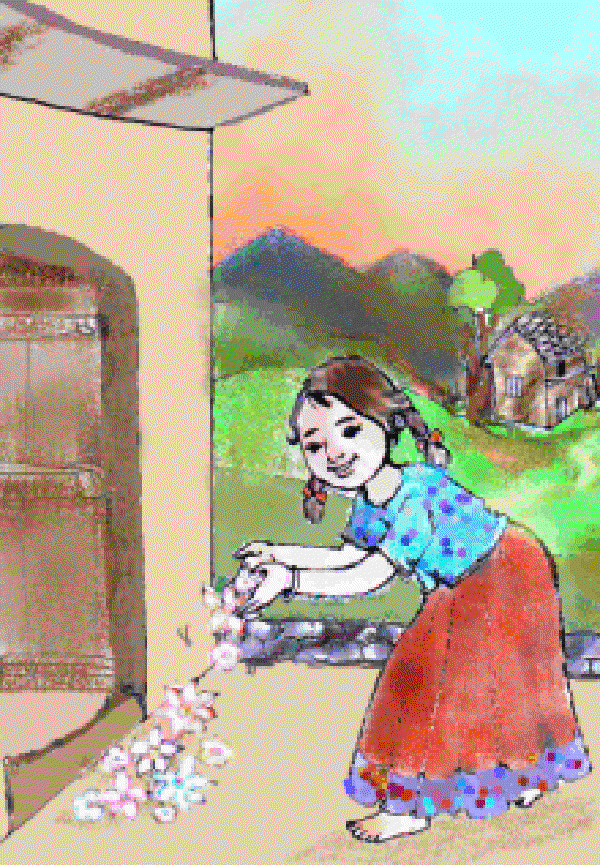 Once the flowers are collected, off they go to prepare the loveliest surprise for every member of the family – the first sight they see on waking up, are the flowers of the mountains.
"I did it when I was a small girl," remembers granny with a gleam in her eyes.
What a lovely way to learn about leaf and flower, I thought to myself.
After the celebration of spring is over, it is a festive time for the flower girls, as they are treated to sweets Kachri (made of rice) as a reward for their girls. The menfolk oblige by giving princely sums of clinking coins! No wonder, little boys too like to accompany their sisters on their hilly jaunts sometimes.
Who was the secret flower girl in my family, who had put the flowers by my bedside, I wondered. And suddenly I realised why my little cousin Bhawna had been giving me mischievous looks all these days. She was my flower girl!
It was the celebration of spring.
Can you think of any other reason for this Phulyari ritual? If you do , write to us.
573 words | 5 minutes
Readability: Grade 5 (10-11 year old children)
Based on Flesch–Kincaid readability scores
Filed under: features
Tags: #mountains, #festivals, #grandmother, #spring, #celebrations
You may also be interested in these:
The Family Album
Hamid Buys an Eid Present
Dress Relief
The Honest Thief
The Tiger and the Dried Persimmons