An inspiring story from our archives: June 2000
Some people like to collect stamps. Others prefer stickers, posters, tattoos or coins. But Pinky Bhutia is different. She collects children. In her mountain village, in Sikkim, she is known as the wonderful young woman who adopts all the children she can.
Pinky was 14 when she adopted her first child, a Nepali orphan. Today, she has a dozen adopted children, and two sons from her marriage.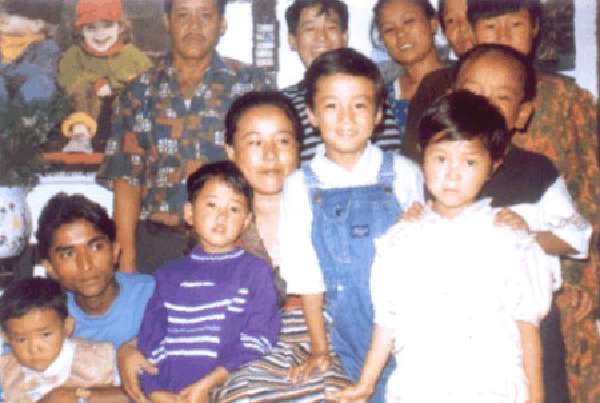 Plump, pink-cheeked Pinky is about 30 years old and she comes from an ordinary family. If you passed her on the street, you wouldn't give her a second look. She lives in a brown mud-washed house which has a tin roof in Rhenock village. There is a vegetable patch outside. Red hens with noisy chicks run all over the garden looking for worms.
If you ask her why she provides a home to so many kids, she smiles. A shy smile which becomes as warm as an afternoon sun. But her eyes are serious. "I know what it is to be poor and hungry." As a child, her only dream was to eat a full meal of khole (a gruel of maize), and her favourite pastime was watching people with shoes and imagining what it felt like. By adopting poor and homeless children she is making sure that they never feel that helpless.
Some of her adopted children are orphans. Some stay with her, because they come from very poor families. And some of her adopted children stay with their parents but receive full support from Pinky.
Pinky feels very proud when she sees her children happy and bright. Her oldest baby, Sarita Rai, is now a bright 20 year old. Then, there is 19-year-old Nimbhe who came to Pinky because her mother was unable to look after her. She started work in a government office in Sikkim's capital Gangtok, two years ago. Ten-year-old Bhim and 14-year-old Kumar came to Pinky five years ago, after their father's death. They started living on a patch of land given by Pinky and grew vegetables for sale.
The fair and quiet Pemkit Lepcha was in class two when she came to the family. She is now in class eight. San Bahadur Chhetri's parents couldn't afford to keep him in school, though he was a bright student. Bhutia said she would take care of him. San Bahadur finished his board exams two years ago. Though he lived with his own parents, he taught all the young children in the Bhutia family. Lamu Bhutia was three when Pinky saw him with his parents who worked as labourers. Pinky brought him home and put him in school. He visited his parents from time to time.
Talking about her children, Pinky remembers her own childhood. She grew up in a large family of 25 cousins, aunts and uncles. There were 15 schoolgoing children. They would eat a cob of maize or a phaphar (maize) roti, depending on the season, and go barefoot to school. The next meal was only at 4 pm.
Pinky's father was a road construction worker with a very small salary. At the age of 11, Pinky started working during school breaks. For eight hours, she would sweep the roads in front of the road-roller. Her brothers were studying then. The whole family hoped they would become big government officials and the family would not have to suffer any longer.
Pinky was 14 and in class eight when she took home her first "daughter" — a weak Nepali baby girl, Sarita Rai. Pinky's parents did not mind. Pinky left school and started working full-time because she had a baby to feed. She helped build roads and army barracks. Today, baby Sarita is a bright 20-year-old.
At the age of 14, Pinky's parents got her married. Despite having her own children, she adopted nearly a dozen more. Her husband Lapka does not mind. "I like children. It's not one more mouth to feed but one more soul saved," he says.
Pinky's children would agree.
(Women's Feature Service)
683 words | 6 minutes
Readability: Grade 5 (10-11 year old children)
Based on Flesch–Kincaid readability scores
Filed under: features
Tags: