Whenever advertisers want a brainy sportstar to talk about their product, very often they think of one name – Viswanathan Anand. A world-class chess champion who was given the name of Lightning Kid because of the speed with which he played.
But how are world class champions like Vishy born? For that, ask his mother Sushila. In 1974, when he was five, she first opened a chessboard and taught him the game. She was also his first opponent in the game. Anand was her youngest child.
For many of us chess is a very complex game. But it is interesting that most champions often start playing chess in their childhood. Luckily, Anand was living in Madras (now Chennai), which was known as the chess capital of India.
Madras had produced India's first International Master, Manuel Aaron in 1961. Seventeen years later, in 1978, Madras produced India's second International Master, V. Ravi Kumar. Anand too started playing in local tournaments.
In the same year the boy's life took a new turn. His father, who worked with the Indian Railways, was sent to the Phillippines for a project. Anand and his mother also went with him. Anand left chess-crazy Madras to go to a chess-crazy country – the Philippines! Asia's first Grandmaster, Eugene Torre, was a Filipino. Florencio Campomanes, who was the President of the world chess organisation, FIDE, at that time was also a Filipino.
And the famous world chess championship match between Soviet Grandmaster Anatoly Karpov and Victor Korchnoi, also took place in Philippines' capital Manila in 1978. Chess was the biggest sport in Philippines. It seemed as if Anand had reached paradise.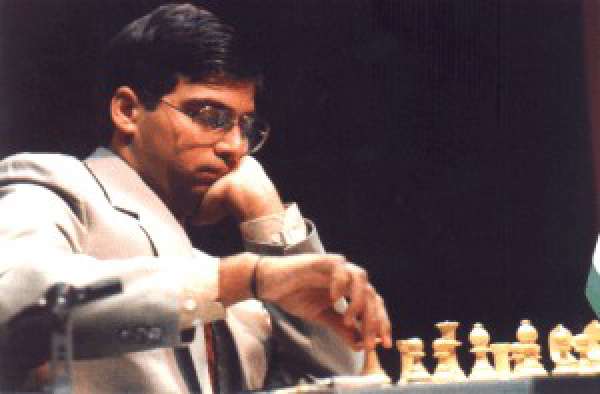 There were daily chess programmes on television. Unlike children of his age, he preferred chess programmes to cartoons, and chess magazines to comics! And if ever the postman delivered his magazine during lunch time, Anand would leave the food untouched, and bury his nose inside the book.
For Anand the best part of the magazine was the chess puzzle given at the end of each programme. He would solve it and send back the answer. Most often he was right. He won so many prizes that the programme officials finally decided to keep a limit to the answers he could send!
His first important world championship was in Paris, in 1983. He finished third despite being unwell. His mother was his most important support; she helped him cope with the pressure of the big match. She often accompanied him on his tours.
During those times when she was in Madras, Anand would often call her at the most difficult moment of his match. He would speak to her and get his confidence back.
In 1985, Anand became an Asian champion. He was also India's youngest International Master. Two years later, in 1987, he won the world junior championship, in the Philippines. He was the first Asian to achieve this feat. The same year he became India's first Grandmaster. He had just turned 18. The Lightning Kid had arrived.
Today, Anand is number two in the chess world. Twice he has been close to becoming the world champion. In 1995, he played against Garry Kasparov and lost. In 1997, he lost to Anatoly Karpov in the official world championships. That is the one goal the young champion has set his eyes on.
But at 30, he can be very proud of one thing. His success has made chess a popular sport with youngsters in India. That is why India today is proud of having so many junior world champions like Pentyala Harikrishna, Koneru Humpy and Aarthie Ramaswamy, and more than twice that number of Asian champions.
<>
616 words | 6 minutes
Readability: Grade 6 (11-12 year old children)
Based on Flesch–Kincaid readability scores
Filed under: features
Tags: #india, #championship, #lightning, #champions, #chess, #grandmotherster, #asian, #philippines
You may also be interested in these:
Street Cricket in Calcutta: Out, Caught!
The Lake and the Birds
Polluted India
The Green Magician
Banaras The Eternal City