To unravel the story behind the famed Kota doria sari, Aditi De of the Women's Feature Service, travelled to Kota in Rajasthan recently. From there she went to the hamlet of Kaithoon, 15 km from Kota. Kaithoon is the real home of the legendary Kota Doria sari. The creation of each sari is a work of art, involving the labour of the entire family of the weaver. The weaving is mainly done by the daughters of the family, most of whom are small girls too busy working to go to school.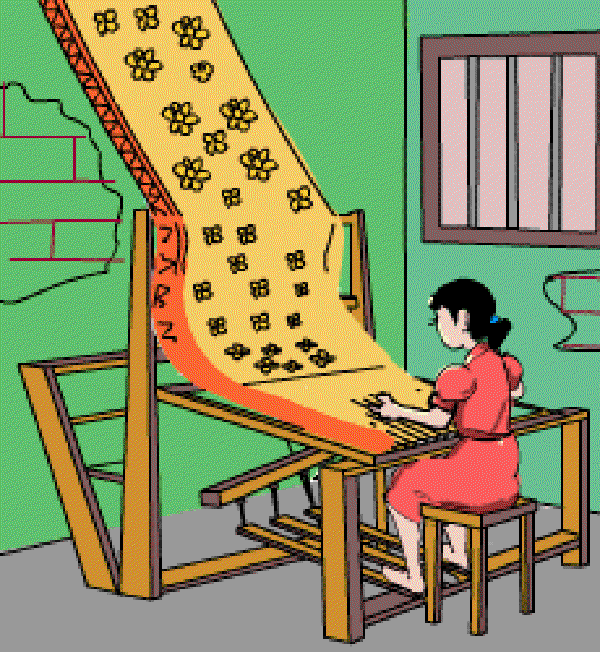 Pastel shades of peach, azure or lemon yellow, with refined zari borders enriched by golden checks. Or beige backdrops on which are stamped block prints of mangoes, leaves, peacocks and paisleys. Some of you must have seen these and similar designs on the prized Kota saris of your mothers.
The Kota sari is a delicate network of natural cotton and silk threads, and is fine as muslin. That is why it's worn during summer, it is so light to touch.
The city of Kota is situated on the eastern bank of the Chambal river in Rajasthan.
A half-hour drive past mustard fields, a sharp turn into a maze of cobbled streets, and we are in Kaithoon. A ragtag bunch of children, eyes bright with curiosity, hair matted with grime, follow at our heels as we disembark. The cobbles are spattered with goat droppings. Open sewers line the narrow streets.
The world outside recedes as we step into the darkness of a dwelling, where Zahida, a woman of about 30, is busy at a loom. She exchanges a few words with my Rajasthani friend in Hadoti, a language that sounds like Gujarati. Hadoti, the language of the
Hadas is a legacy of Rao Deva, the Hada chieftain who founded Kota
in the 12th century.
Zahida's father, Moinuddin, his hands gnarled with work, his beard grey with experience, uncovers a woven pallav. Against a fine background of midnight blue, we scan floral bouquets in burnt gold reminiscent of Mughal motifs. Spectacular enough to steal the show at a wedding. Pretty enough for a princess.
"It takes about a month to weave an elaborate sari. But it takes
only a week for a simpler one," says Zahida. She adds that each weaver earns about Rs. 300 each for a sari.
We learn that these skilled weavers are not able to market their own weaves. It is at this point that merchant middlemen – like Hamid Bihari at Kaithoon who supplies the yarn and sells the saris – step in.
All the Muslim families in Kaithoon are weavers. They make up about seven percent of the 20,000 weavers in the city.
Weaving is a family profession in Kaithoon. Fathers, mothers, children….everyone is involved. Daughters are trained from the time they are 12 years old. A new daughter-in-law who comes from another village into a family in Kaithoon, is also taught to weave.
Saira and Amina are, for instance, two young sisters at the loom. Saira, the younger is honing her skills at the elbow of her sister Amina, two years her senior at 15.
As we watch, the shuttle at their tender fingers skims its way through the maze of threads to unravel tiny bird butas at frequent intervals, as if the pastel backdrop was about to take wing.
Saira first learnt to weave while barely 11. School doesn't figure in her daily life, as her family has to live by the loom. Besides spending ten hours at the loom, the
sisters also have to clean and cook.
Her voice rings in our ears as we later sift through the stunning collection of Kota doria saris at Hamid Bihari's residence, the only retail outlet in Kaithoon. A classic jacquard in off-white and green costs as much as Rs 14,000.
From where did these master weavers originate? About a 100 years ago, Maharaja Umaid Singh of Kota brought down a few families of weavers from Mysore. Their descendants have today been totally integrated into Rajasthani lifestyles. That is why the local population still refers to their weaves as 'masuriya' saris.
Ours is an age of cheap synthetic cloth, mass produced and sold at the teeming
bazaars. The master weavers of Kaithoon, guardians of the Kota doria tradition,
are preservers of some part of our fast-disappearing heritage. They, and their families, deserve a better livelihood than the one they have at present.
Women's Feature Service
747 words | 7 minutes
Readability: Grade 6 (11-12 year old children)
Based on Flesch–Kincaid readability scores
Filed under: features
Tags: #rajasthani, #families, #streets, #weave
You may also be interested in these:
The Teenage Teacher of Pune
Mother Teresa
Monsoon in Mumbai
The Lame Groom and his English Bride
Spiders and their Magical Web