Janamashtmi, or the birth anniversary of Lord Krishna — the seventh avatar of Lord Vishnu — is celebrated with traditional gaiety and fervour all over India. It falls on the eighth day of the waning moon in the month of Shravan in August/ September. Lord Krishna is believed to have been born at midnight on this day. The day is marked by fasting, feasting, dancing and singing hymns and prayers.
Lord Vishnu is invoked in his human incarnation as Krishna on his birth anniversary.
As the legend goes, Lord Krishna was born on a stormy night in Mathura in a prison cell. Inorder to save infant Krishna from his cruel uncle, the parents exchange their kid with the daughter of Yashooda and Nanda, the cowherd lord. Since Mathura, located on the Kutch coast, was the birthplace of the lord it's looked upon as one of the four divine cities or chardham of India. Thousands of devout flock to this land of Krishna during Janamashtmi.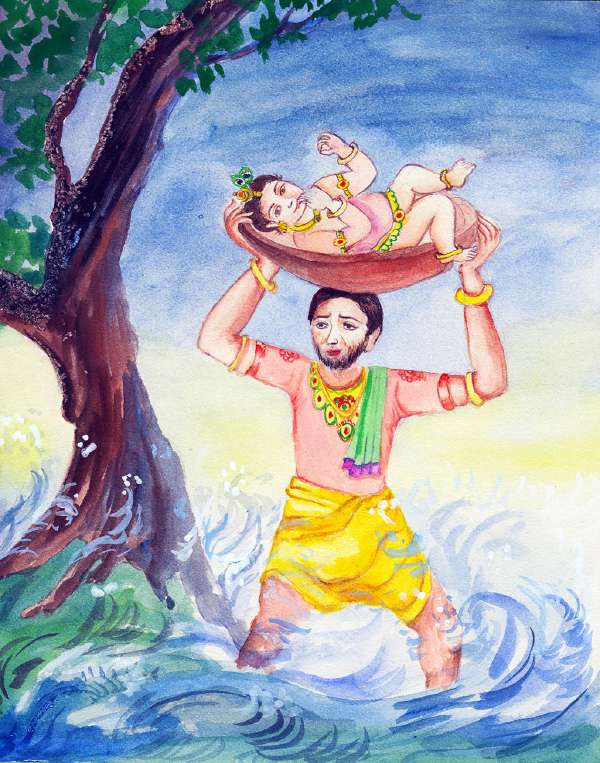 Dwarka, the capital of Krishna's kingdom and one of the four holy cities of India, is another city that literally comes alive with celebrations and visitors. Devotees throng temples to pay obeisance.
Vrindavan, famous for Krishna's youthful escapades, cavorting with Radha, playing with the cowherd girls or gopis and playing his flute, also becomes a pilgrim centre during this festival. Extravagant and colourful celebrations are held in the temples. Raslila, a unique dance form which commemorates the life of Krishna and his love for Radha, is enacted with great gusto. In most homes and temples the idol of infant Krishna is bathed at midnight and is placed in a cradle. This spectacle is called Jhanki. The cradle is rocked in an attempt to relive the time Lord Krishna was born admist chanting of prayers, hymns and blowing of conch shells. Most homes are lit up with lamps and the entire atmosphere is one of joyous celebrations. Devotional songs and dances also add colour to the festivities.
In Maharashtra, scenes from Krishna's childhood are recreated especially the scenes of stealing butter and curds from earthenware pots by Krishna. Pots or matkas are suspended high above the ground and young men and children form human pyramids to try and reach these pots and eventually break them. Tableaux depicting the life of Lord Krishna are put up in temples to mark the occasion.
404 words | 4 minutes
Readability: Grade 8 (13-14 year old children)
Based on Flesch–Kincaid readability scores
Filed under: festivals
Tags: #india, #krishna, #mathura, #celebrations
You may also be interested in these:
The Quake that rocked Gujarat
Why do Earthquakes Occur?
Former Child Worker Visits Clinton
Orissa Police's Feathered Force is Dying
Raksha Bandhan