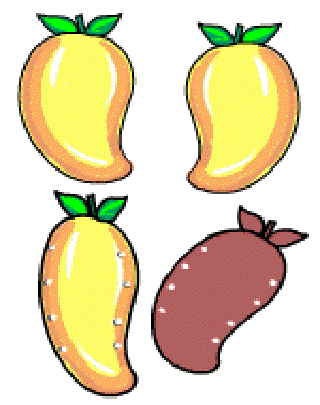 Set everyone's stomach growling with your irresistable, yummy look.
All you need is:
Two Cardboard Sheets.

Two White Chartpapers.

Water Colours.

Paint Brush.

Two meter yellow ribbon.

Scissors, pencil and eraser.
Step 1: Paste a white chartpaper on to a cardboard sheet. Draw the shape of a mango and cut it.
Step 2: Colour the mango using different shades of yellow and orange. Repeat the same steps to make another mango which would cover your back.
Step 3: Once you have made your front and back, make holes on the sides of both the mango pieces and string the ribbon like you do your shoelaces.
Wear a yellow bottom and a brown full sleeves top. The yellow will match with your mango and the brown will give the effect of a branch.
Your mango suit is ready to be worn. Just make sure that you tie the ribbons firmly so that the mango does not drop!
164 words | 1 minutes
Readability:
Based on Flesch–Kincaid readability scores
Filed under: craft activities
Tags: #mango
You may also be interested in these:
Greed Never Pays
Mad Mango
Mushir and the Magic Rickshaw
Joy of Making Indian Toys
The Mango Charm