During Dussehra it seems that Rama and Ravana come down to earth. In every street there are children who wear masks of these characters and enact the story. Would you like to make your own masks and do the same?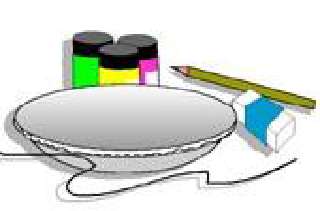 You will need:
Paper plate, paints, pencil, eraser and thread.
Step 1: Draw the face of the character on the backside of the paper plate and colour it.
Step 2: Make two holes for the eyes so that when you wear the mask you can see every one.
Step 3: Make a hole on each side. Tie a thread around them. You are ready to wear the mask.
You can make masks using a variety of things like glaze paper which can be cut to make the features. Crepe paper, which has a stiff texture, can also give you a beautiful crown or locks of hair. The scope is unlimited. You just need to experiment.
162 words | 1 minutes
Readability:
Based on Flesch–Kincaid readability scores
Filed under: craft activities
Tags: