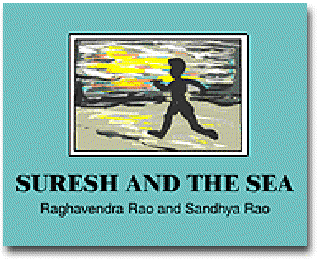 Suresh and the Sea
Written by Raghavendra Rao and Sandhya Rao
Photos by Raghavendra Rao
Published by Tulika, Chennai
This book traces the real-life story of a boy through his growing years in his native fishing village, Injambakkam. The author, Raghavendra Rao, tells of how Suresh taught him to look at the sea with new eyes and surrender to the sea's charms. His black and white photographs make the experience come alive for his readers.
This non-fiction is co-authored by Sandhya Rao and published by the Chennai-based publishers of children's books, Tulika. It is the first book in a series that explores the relationship between humans and their environment in various parts of India. In
Suresh and the Sea, the writers have thrown in additional bits of information about fish, fishing, fishing laws and fishing communities in other parts of the world, too.
Rather than being in a story-telling style, the book is a narration of how Suresh and his friends grow up loving and respecting the sea. They find the sea enthralling. Though they are not educated, the little boys, all between eight to 10 years, know more about the sea than their peers studying in school. At the same time, they envy the city children studying in schools.
Suresh and his friends learn through personal experience, watching their elders and hearing the menfolk discuss a hard day's work. Raghavendra Rao explains that Injambakkam is a small fishing village about 10 km from Chennai and each family earns Rs 60-70 on an average, after putting in a long day's work.
Information about environmental and other issues related to marine life, the ecosystem and the village culture run parallel to Suresh's story. Rao talks about the kuttumaram, which is the traditional fishing boat of logs and a design masterpiece even to this day, and the respect with which the fishermen regard Kadalamma or Mother Ocean. He also narrates how the little boys listen to the sea and learn to understand what it is trying to say to them.
About the Authors
Raghavendra Rao spent 20 years as a photojournalist before he decided to get into a world of exploration. His travels became journeys of discovery and resulted in a series of exhibitions. This is his first book for children. He has also translated stories from English into Kannada for Tulika Publishers.
Sandhya Rao was also a full-time journalist before she decided to follow her dream – to write books for children. She works as an editor with Tulika.
423 words | 4 minutes
Readability: Grade 9 (14-15 year old children)
Based on Flesch–Kincaid readability scores
Filed under: book reviews
Tags: #chennai, #fishing
You may also be interested in these:
A Tale of Two Wonders