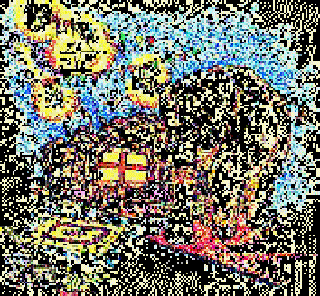 It was little Chiku's third birthday.
So Akki the ant bought a balloon
Blue as the sky,
Round as the moon.
But who is Chiku?
He is Dinku donkey's friendly neighbour —
The creepy and crawly little caterpillar.
Chiku's grandmother and grandfather,
Eeku and Meeku,
Were there too —
With candles, cake,
And a big cauliflower!
Who were the other guests?
Elephant Shakti with her fat twins —
Gablu and Bablu,
And their sixteen cousins!
Ila, Neela, Ali and Lily
Hopped the fish
With mittens on their fins!
Inside Jumpy's pouch Joey slept
But woke with a start
When Kadam stepped!
Then Chintu, Boomba and Mukabla came
Just as the others
Had begun a game.
Lazy Bhaloo came uninvited —
With some honey,
And Chiku was delighted.
In, Pin and Tin were as usual late —
They came running in
Without even closing the gate!
What did they eat?
'Twas a grand feast for everyone
'Look at that cake —
Oh, what fun!'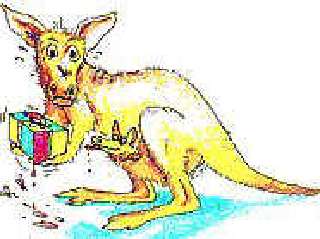 There was betel juice, and paapri chaat
And jalebi with chutney for a start.
Quietly Kadam reached for the cake
Took a bite, but soon said —
'Oh, Dadi dear! You forgot to bake!'
But the paneer pakodas were too good!
In ate them all,
While Tin simply stood.
'The dhokla's great,
But slightly sweet', said Ali.
Dinku looked up,
'That's burfi, you silly!'
The idlis were steaming,
And so was the chai —
For Gablu's cousins,
Who came from Chennai.
All ate until their stomachs hurt
And groaned —
'Chiku, you're an expert!'
But Chiku, where is Chiku?
He's not here,
He's not there.
On his birthday how did he disappear?
Akki looked under the table, the bed too
She shouted loudly,
'Chiku where are you?'
Grandpa crawled up the bedroom wall
And in his tension had a bad fall!
Lily picked up the phone
To call the police.
And Eeku cried,
'Find my Chiku, please!'
The policemen looked here;
While their dogs sniffed there.
But the birthday boy was simply nowhere.
'Poor Chiku bhaiya!', sobbed Pin,
'I promise not to steal
Your crayons again!'
For a moment everything was silent
Only sniffs were heard
From all present!
'But who is that snoring so loud?'
Kadam marched ahead,
Everyone else followed.
'Look!' said Joey, 'It's the cauliflower!'
'A snoring flower?!
Are you sure?'
'And mama, cauli has a pouch like you,
Maybe there's a baby in it too…'
'Oh!' said Joey,
And 'Ah!' said Jumpy,
'Everybody come here and see quickly!'
They all peered into the white flower,
Into the big hole
In the cauliflower —
Curled up inside, Chiku peacefully lay
With a big belly,
He was snoring away!
456 words | 6 minutes
Readability: Grade 4 (9-10 year old children)
Based on Flesch–Kincaid readability scores