January 31: Four-year old Parul Mishra of Lucknow (right) walked over a burning bed of coal to save her little friend Priyanka, who had accidentally fallen into it. Twelve-year old Sunil Singh and 13-year old Mukesh Kumar of Doda district, Kashmir, foiled a militant attack on their village.
Two brothers, Prince and Ashish Kumar of Gaya district, Bihar, fought a dangerous gang of dacoits who had stormed into their house. Parul, Sunil, Mukesh, Prince and Ashish are ordinary children, but for one trait. They are extraordinarily courageous.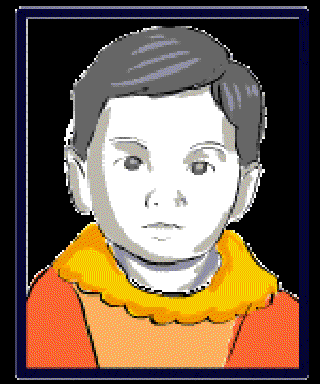 Along with 18 other children hailing from all over India, they were honoured by the Indian Prime Minister for their daring acts of bravery, during the run-up to the Republic Day celebrations, in New Delhi, this year. All of them are recipients of the National Awards for Bravery, 2000.
The awards are conferred to honour outstanding deeds of bravery by children under the age of 16 and to inspire other children, but they could well serve as an inspiration for grown-ups, so daring and impressive are the acts of courage, stemming from concern.
Take the case of Sunil Singh and Mukesh Kumar, for instance. The duo are recipients of the highest grade award, the Bharat award. Both repulsed the attack of 40 armed terrorists, who massacred 15 people and injured countless others in a raid on their village, one night. Mukesh's father was among those killed.
In that instant, Mukesh picked up his father's gun and engaged the militants in a fierce battle lasting several hours. He was joined by Sunil Singh, who too, had picked up his brother's rifle. The firing continued till morning, after which the terrorists fled.
Almost half the age of Mukesh and Sunil, is Vinita. But she, too, showed exemplary courage in saving the lives of six children who got trapped in a burning cowshed, in her village Champawat, Uttar Pradesh. The alarm that she raised simultaneously, enabled the villagers to rush to the spot and prevent the spread of the fire to neighbouring houses.
Since 1957, when the National Awards for Bravery were given to two children – a boy and a girl – many brave children have been honoured thus. Their ages have ranged from three to sixteen.
The awards are declared on Children's Day, on November 14, every year. But the awardees are subsequently invited to Delhi, where the Prime Minister gives away the awards in a special ceremony on the eve of Republic Day. A regular feature of the Republic Day Parade is the ride of the awardees on caparisoned elephants.
In 1987-88, the Indian Council for Child Welfare (ICCW) instituted the Bharat Award for an exceptionally outstanding, meritorious and gallant deed. The other special awards include the Geeta Chopra and Sanjay Chopra awards (instituted by ICCW in 1978) and the Bapu Gayadhani awards (instituted in 1988-89 ).
The other awardees are: Obiraj Subha and Tator Pertin (from Arunachal), Reuben Lamiaki Kynta (from Meghalaya), P. Tirumalai (Tamil Nadu), Asish Kumar (Bihar), Vinita (UP), Kumbharam Meena (Rajasthan), Satyanarayan Bairagi and Kumari Vidya Kumari (Madhya Pradesh), Laishram Uttamkumar Singh (Manipur), Vishnu Vilas Pavithran (Kerala), Laukik Rajiv Bhatkar (Maharashtra), Chandduba (Gujarat), Abdul Majid (Jammu and Kashmir).
The award was conferred posthumously on 13-year-old Lalniliana and 16-year-old Binod Nongrum, from Mizoram and Meghalaya respectively. In a tragic incident, they lost their lives while saving their friends from drowning.
Each awardee receives a medal, a certificate and cash for her/his brave deed. Applications are recieved from various sources such as government departments at the Centre and in the states, panchayats and school authorities as well.
It's a small price that the government pays for the big deeds of children. Little Parul for instance, had to undergo plastic surgery on her feet because the hot coals she stood on melted her plastic sandals and burnt her feet badly.
Ultimately, it's this spirit of selflessness in lives so young, that one remembers the little heroes for. These children have truly done the country proud, and the Republic Day awards are the nation's way of honouring their deeds.
682 words | 6 minutes
Readability: Grade 9 (14-15 year old children)
Based on Flesch–Kincaid readability scores
Filed under: world news
Tags: #republic
You may also be interested in these:
Mao Zedong