The bricks came a tumbling. And the concrete made a rumbling. Leaving behind a huge mound of debris.
And a huge crowd of human beings. With tears in their eyes.
Their houses had been destroyed before them.
Jagmohan, the Minister for Urban Development was in action. He was cleaning up the city, he said. The people were sent to Narela, a far flung area in the suburbs of Delhi.
They would get new houses, they were told.
The new place, Narela, has houses. But no schools. Or hospitals.
Because although Narela is called a "sub-city" by the government authorities, it is nothing like a city. There are boards announcing a school and a health centre. But actually they don't exist.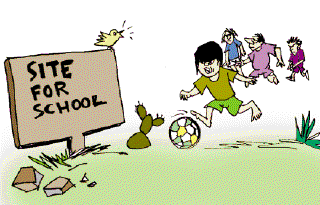 Of about 5,000 children who came here, very few manage to attend school. Boys who unlike girls, are permitted by their parents to travel. And the children of parents who have moved to other places where there are schools.
For many of the children in Narela, their school uniforms have become their play clothes. The Indian Express newspaper reported the story of Meeta, a 13-year-old, whose 11-year-old brother Deepak is lucky enough to be able to go to school.
Deepak accompanies his father, who is a fruit vendor, to downtown Delhi every Monday where they stay throughout the week. His father has convinced some friends who own a hotel to allow them to spend their nights there. And Deepak attends a local school there. When the newspaper's reporter asked him whether it was difficult staying away from his family, he smiled and said: "I love school. I want to become a teacher."
But Meeta cannot attend school because she is a girl. Her parents have decided that it is safer for a girl to stay home instead of going to school which is so far away.
And Meeta has to wait. Till such a time when the minister gets tired of destroying and starts building a school for her.
336 words | 3 minutes
Readability: Grade 5 (10-11 year old children)
Based on Flesch–Kincaid readability scores
Filed under: world news
Tags: