August 5: A beggar is someone who is so poor that she has to beg people for money. For, she generally has little that belongs to her. No money to buy food, no proper shelter to live in, not even perhaps, two sets of clothes to wear.
Or, at least that's what we're told to believe.
But Bhanwari Sethani forces us to take a new look at the tired, old pictures of the beggar that we have in our mind. Bhanwari Sethani is a beggar all right. But at the same time, she is also a money lender. And she has made all her riches in the begging profession. So much so that the popular Hindi word for rich woman, 'Sethani' has been added to her name.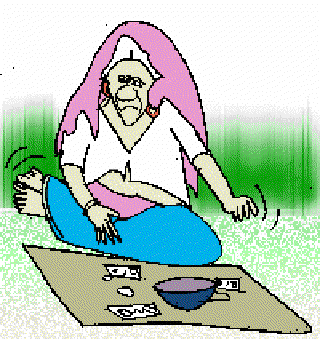 A 400-year-old Hanuman Temple in Jaipur is the place where Bhanwari practises her 'trade'. You'll meet her at the entrance of the temple, sitting comfortably with her blind son by her side. She has all the attitude of the successful professional who knows she's good at her job. That's why you'll never find her chasing customers. The regulars who visit the temple know her well. They never fail to put coins or currency notes in her begging bowl. And, she earns between Rs 150 to Rs 200 every day.
With her earnings, the Sethani has bought a house. The rest of the money she loans to people.
Bhanwari Sethani started begging 36 years ago, soon after her husband's death. After earning enough money, she began lending it at a nominal interest of 5 per cent per year. Like any money lender, she demands something of value from her client as a guarantee that he will return the money. And she prefers lending to people of her own locality.
However, the Sethani says that many of her clients have cheated her. Even her daughter, whom she trusted, cheated her of Rs. 500,000 by withdrawing the amount from her bank account. "I no longer deposit my earnings in the bank", she told the Hindustan Times newspaper.
Still, she has enough clients who are honest. One of her clients, Ramesh, took Rs. 1,000 and returned it within 5 years. He had to pay Rs. 200 in addition to the loan he took as interest.
Most of her clients do not like to say that they have taken a loan from Sethani. They are ashamed of being a beggar's client.
Yet another unusual beggar in Jaipur is K.S. Narayana. How Narayana became a beggar is a story in itself. He had once come to Jaipur to visit someone in a hospital. Since he did not have enough money to book a hotel room, he slept outside the hospital. Passers by thought he was a beggar. So they dropped coins and notes around him. On waking up, Narayana realised what had happened. Why not become a beggar, he thought. And went on to become one. Today, he is grateful that he made the right decision. He earns Rs. 9,000 per month and sends the money to his family in Andhra Pradesh. His earnings are enabling his son to study to become a doctor.
Neither Narayana nor Bhanwari Sethani would trade their jobs for any other now.
549 words | 5 minutes
Readability: Grade 5 (10-11 year old children)
Based on Flesch–Kincaid readability scores
Filed under: world news
Tags: #money, #temple, #jaipur, #hospitals, #money lender
You may also be interested in these:
An Unpleasant Smell
The Honest Thief
Green Fields in a Concrete Jungle
Robot That Changes Form
Who's Stealing the Doctors' Clothes?