March 7: Sujit Dawn of Sehera Bazar town in Burdwan district, West Bengal, is taking the madhyamik (middle-level) or Class X Board Examinations this year. If he passes, he goes on to senior school.
But there is something about Sujit that makes him different from the other boys taking the exams. He is writing the exams with his feet.
Sujit is physically challenged. The only son of Swapan (a timber merchant) and Putul Dawn, he was born without hands and learnt to write by holding the pen between his right toes. His ambition is to become a teacher, says a report in
The Telegraph.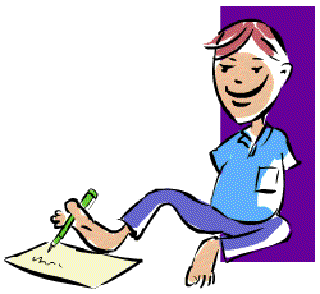 "I had no hands since childhood, but I was never upset. I prepared myself mentally. I can write, I can draw, I can even play the harmonium, a wind instrument, and the tabla or little drums," he said in an interview. He loves singing and reading books.
Brought up in a joint family, Sujit is the life and soul of social and cultural gatherings, both due to his interest in the arts as well as his natural exuberance.
Sujit is a student of Uchalan High School. The school authorities have arranged for a bed so he can sit and write. The board of examinees has also allowed him 30 minutes extra to complete his papers. But he is so proficient in writing with his feet, that he may not need the extra time. On the first day of the exam, he submitted his answer sheet 20 minutes before time.
Sujit is not disheartened by his disability. In fact, it has made him more determined to overcome the limitations the disability imposes on him. In the process, the self-respecting youngster has mastered several skills and is ready to take on the world.
Sujits story is very similar to that of Christy Brown, the Irish writer and painter. Brown was born with cerebral palsy in a poor Dublin family. He used his left foot to scrawl messages on the floor with a piece of chalk. In time, his paintings and writings made him successful. Later, Browns courage and inspiring story became the theme of an acclaimed film, My Left Foot.
373 words | 3 minutes
Readability: Grade 7 (12-13 year old children)
Based on Flesch–Kincaid readability scores
Filed under: world news
Tags: #disability
You may also be interested in these:
The Girl who Failed the Citizenship Test