How do we make sure that our favourite person stays by our side at most times? Simple – we frame their photographs and keep them in a place where we can always see them. What fun if we could make the photo frames too! And it is not at all difficult.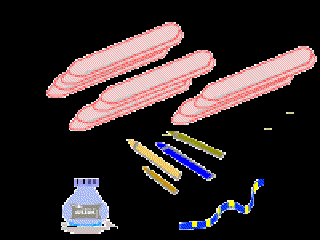 The things you need:
Ice Cream sticks.

Adhesive.

Colours.

Thick string or wire.
Step 1 Collect around 15 ice cream sticks. For the base of the frame, stick the ice cream sticks as shown in the picture.
Step 2 Leave half-an-inch space from all the sides and glue four sticks on the base to make the upper layer of the frame.
Step 3 Slide the photograph through the gap.
Step 4 Take a thick wire or a string to make a loop. Stick the two ends of the loop at the back of the frame. You can now hang your photo frame.
You can draw a variety of patterns on the side of your photo frame with the help of crayons.
180 words | 1 minutes
Readability:
Based on Flesch–Kincaid readability scores
Filed under: craft activities
Tags: #strings, #ice cream
You may also be interested in these:
The Magnetic Fish Bowl
Make a Balloon Mask
The Magnetic Fish Bowl
Little Toys