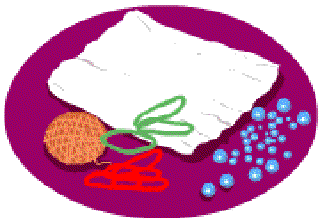 This is just one way of making a scarf. The best part is that once you know the technique, you will be able to make different patterns by twisting, clipping, knotting or folding the cloth.
The things you need:
A plain white cotton cloth
Thick white cotton thread or elastic bands
A packet of 50 beads
Step 1: Wash the cloth in warm water. Starting from one end, stitch the beads the way they are shown in the picture – a big bead or two to three beads together in the centre with four beads around it.
Step 2: Make small groupings like this all over the cloth in a way that they are not too close to each other.
Step 3: Take care while tying the thread around the beads. Do it very tightly. If the thread is loose, the colour will get smudged, and you will not get a fine pattern.
Step 4: Go to any dye shop and give your scarf for dyeing in the colour you want. A bright red, orange, blue or even a purple would look nice.
While you are at the dye shop, find out how the cloth is dyed. The next time you can do it at home yourself.
215 words | 2 minutes
Readability:
Based on Flesch–Kincaid readability scores
Filed under: craft activities
Tags: #cotton, #beads
You may also be interested in these:
The Sweet-Mad Hero
A Lucky Hunter
Doll-making