July 31: A.Yogananda is learning the basics of the computer at a computer centre in Pune. Like how to send and receive e-mails to friends in US, Mumbai and Bangalore. He is as excited as any kid who is learning something new.
This eager student is all of 79 years old.
And he is not the only one. Senior citizens in Pune are rushing to computer classes and taking notes like never before. In the process they are discovering a strange universe of computer terms. Like Yahoo! Windows, folders, and recycle bins.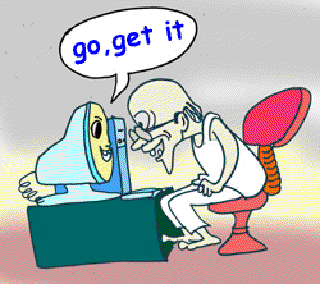 What lies at the heart of this sudden interest?
Embarrassment, perhaps.
Most cities in India are breeding an internet culture among youngsters today. Pune is no exception. There are thousands of young computer whiz-kids here, who dream of becoming the next Bill Gates. Whose conversation is peppered with high-sounding computer terms. These kids are highly computer-literate.
But their grandparents aren't. For many of them have been getting upset by the thought that the computer is distancing them from their grandchildren, because they cannot speak the children's hi-tech language. So they began doing the only thing that can bridge this distance – master the computer themselves.
"I had to know something about what it is that my grandchildren keep talking about", says grandmother Lopa. She and her husband Ram Pradhan are students at the Penn Bandhan Computer Technology Centre. 'The Indian Express' recently carried a report on its inauguration.
Several such computer centres are coming up all over Pune.
What are these elders taught? All the things that their grandkids are taught — Microsoft Word, Windows and the Internet surfing. But the teaching method is somewhat different.
"Teaching computers to senior citizens needs an entirely different approach and pace. You have to repeat the same concept over and over, or create real-life examples," says a computer instructor.
Keeping in mind the special needs of the senior citizens, a special curriculum has been devised for them.
The elders meanwhile, can't have enough of the computer. Now that the fear of what was once a scary machine is gone, they, too, are confidently logging on to the cyber age.
365 words | 3 minutes
Readability: Grade 7 (12-13 year old children)
Based on Flesch–Kincaid readability scores
Filed under: world news
Tags: #india, #internet, #computers, #citizens
You may also be interested in these:
Old PCs Save Precious Lives
10 Tips for Parents of Children with Internet access
Children e-Lead the Way
Smart Future
Ali Sardar Jafri