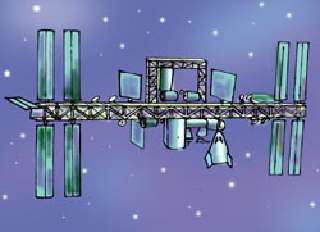 August 19: Dennis Tito is a very excited man. This businessman-cum-space-enthusiast has won the first prize in a game show called Destination Mir. He is now all set to be the world's first space tourist, and is training at Russia's Star City space-base for his unusually long journey.
Russia has launched a television game show to revive interest in its ageing space station, Mir. The winner of the show gets to shoot into space, straight to the Russian space station Mir, which has been in space for 14 years now.
The ageing Mir — which means 'peace' in Russian — no longer interests people the way it did when it was first launched. But the Russians intend to change that.
According to a report in the 'Deccan Chronicle', Mircorp is a joint venture between western investors and Russia's Energiya, a rocket-building company. It has been launched to keep the 14-year old Mir, in orbit. Destination Mir will bring contestants to train at Russia's Star City, and blast the winner into orbit to visit Mir.
There is a simple reason as to why the Russians are so keen to keep Mir in orbit. Mir is the pride of Russia's space programme. In its 14 years in orbit, astronauts or space travellers from all over the world have lived on the station and performed many experiments. Two Russians, Leonid Kizim and Vladimir Solovyev were the first occupants of Mir.
In fact, Mir is the result of the Russian space-programme's efforts to maintain long-duration human presence in space. It provides facilities for wide-ranging research in space biology, technology, earth observation, and space sciences.
The core unit of Mir was launched in 1986. Later additional units were lofted into space by separate rockets and attached to the core. The idea was to enable Mir to function as a large, flexible laboratory in space.
And it did. But a series of equipment failures and accidents in 1996-97, together with its age, has dated it to a large extent.
The Americans in fact believe that Mir has long since outlived its shelf life. They are pleading with the Russians to scrap or dismantle Mir so that its resources can be devoted to creating a joint international space station.
The international space station is a long-standing dream of the Americans and the Russians. Russia has already launched the living quarters of the station. The quarters are essentially in the style of Mir's quarters. By the end of the year, a live-in crew will occupy them. But the project is suffering from a lack of funds and has been delayed as a result.
Though the Russians know that scrapping Mir is the best way to get rid of the problem, they just can't bring themselves to do it. So they are looking for ways to save Mir. The game show idea seeks to provide a solution.
Mircorp's western investors have said that this would enable Russian space officials to earn money by the sale of tickets. More importantly, the ageing space station will receive a great deal of publicity due to the show.
The Russian effort to preserve Mir, which is considered a national treasure, has an interesting parallel in India. The ageing Indian actor Amitabh Bachchan, who is considered by many as a national treasure, finds it difficult to deliver a hit film these days, but he has been enormously successful as the host of a television game show 'Kaun Banega Crorepati' (Who wants to be a Millionaire?).
One can only be hopeful that Destination Mir too will revive the fortunes of the unfortunate Mir.
604 words | 6 minutes
Readability: Grade 8 (13-14 year old children)
Based on Flesch–Kincaid readability scores
Filed under: world news
Tags: #russia, #space, #russians, #television, #orbit, #international space station, #space station
You may also be interested in these:
From Russia with Love : Rudolf Nureyev
Vladimir Ilich Lenin
Calendar
Space Tourism: Ready for a Skyrocketing Holiday
How do Human Cannonballs Fly?