Where: Guizhou province, China
July 15, 2000: This face appeared in the Wall Street Journal, a business newspaper in the US. What is so great about this face that it was written about in a newspaper.
The face belongs to Bi-Jiangang, a 36-year-old man, who has brought about a huge change in the school system in China. He has started a school, called the Qiannan Computer School, which teaches computer skills to poor teenagers of the Guizhou province.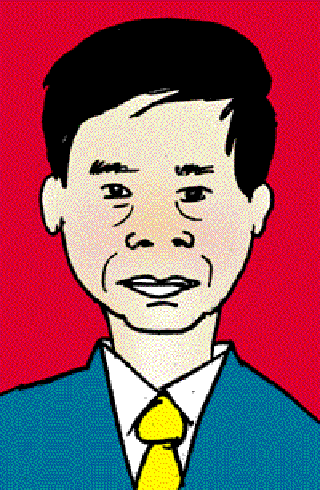 What is unique about this school is that it is so different from the schools that existed in China till now. Earlier, schools in China were only run by the government and children were trained to work for the government. And very few of these students – 4 per cent — passed out and got admitted into the university. As the universities could admit only a limited number of students.
Since the students were being trained for a certain kind of job, the syllabus was very boring for children who were not interested in the subject. And the people who decided what is to be taught never made any changes in the syllabus.
But Bi-Jiangang's school is different. Teachers are paid on merit, the school advertises on television and its textbooks are based on the latest trends in the fast-changing hi-tech world. It also allows students to practise on the computer for two-hours everyday, rather than simply expecting them to cram up facts in their text-books.
Due to its focus on performance, the school is doing much better than any other in the neighbourhood.. It has been scoring high in national computer-skills tests. When hiring new recruits, companies consider the results of these tests. And hire Bi's students.
The students are also very pleased because of all the attention they are getting. Most of them realise that this is their only chance to prove themselves. The families of some of these kids have gone to the extent of selling their cattle to cover the charge for the tuition fee in Bi's school.
As more and more people got interested in the kind of school Bi has started, about 60,000 of them have sprung up all over China. And now, they are pushing their government-run rivals to bring about changes.
The Wall Street Journal reports that the Chinese government is actually happy with this turn of events. Because the government-run universities can give admission to only 10 per cent of all high-school graduates. Which means very few students manage to get educated for jobs. So the government wants partners to help change the system. Young, dynamic people who can look at the old problem and devise new, exciting solutions. People ike Bi Jiangang. So keen is the government that last year, Chinese Premier Zhu Rongji praised private schools at a national education conference.
476 words | 4 minutes
Readability: Grade 8 (13-14 year old children)
Based on Flesch–Kincaid readability scores
Filed under: world news
Tags: #chinese, #computers, #streets
You may also be interested in these:
Street Cricket in Calcutta: Out, Caught!
Old PCs Save Precious Lives
Wonder in the Sand
10 Tips for Parents of Children with Internet access
Children e-Lead the Way